Tibet is situated in the northeast of the Himalayas in Asia. It used to be a part of ancient Chinese civilizations and has gained many features from there.It is a homeland to the Tibetan people and to certain other ethnic groups such as Qiang, Lhobas and Monpas. The Tibetans follow the religion named Buddhism.
They have a religious hierarchy with the Dalai Lama at the top, followed by the Panchen Lama, DorjePakmo and the leaders of the spiritual traditions such as Nyingma, Sakya, Kagyu and Gelug. Let's discuss the Tibetan religious hierarchy in detail with the following hierarchical levels: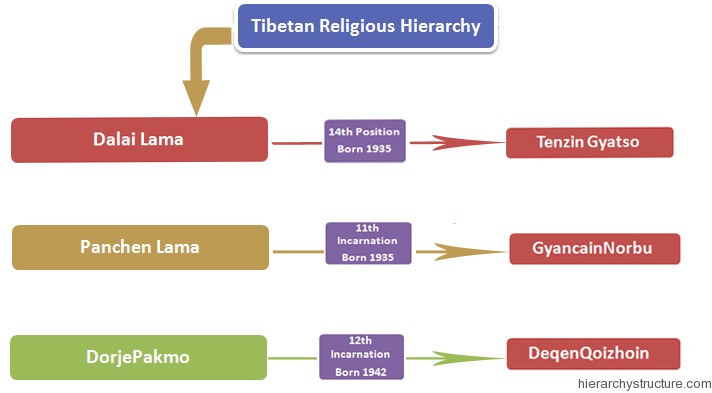 Dalai Lama
Panchen Lama
DorjePakmo
Dalai Lama
Dalai Lamas acquires the highest position in the religious hierarchy of Tibet. The Dalai Lamas function as the principal spiritual guide to many Himalayan kingdoms as well as western China, Ladakh and Mongolia. There has been 14 recognized reincarnations of the Dalai Lama namely GendunDrup (1391- 1474), GendunGyatso (1475- 1542), SonamGyatso (1543- 1588), YontenGyatso (1589- 1617), NgawangLobsangGyatso (1617- 1682), TsangyangGyatso (1683- 1706), KelzangGyatso (1708- 1757), JamphelGyatso (1758- 1804), LungtokGyatso (1805- 1815), TsultrimGyatso (1816- 1837), KhendrupGyatso (1838- 1856), TrinleyGyatso (1857- 1875), ThubtenGyatso (1876- 1933) and Tenzin Gyatso (1935-2011).
The Dalai Lamas are believed to be the manifestations of Avalokiteshvara, the Bodhisattva of compassion and the patron saint of Tibet.
Tenzin Gyatso has taken the 14th position as Dalai Lamaand is the head of the state. He was born on 6th July 1935. In the year 1950, his Holiness assumed full political power after China's invasion of Tibet. In the year 1963, his Holiness drafted a democratic constitution for Tibet, which provided detailed guidelines on the functioning of the Tibetan government. He is still working quite efficiently in getting an independent status for his country.
Panchen Lama
Panchen Lama holds the second highest ranking in the Tibetan religious hierarchy after the Dalai Lama. The Panchen Lamas play important roles in the social and political organization of Tibet. At present, the 11th incarnation of the Panchen Lama is prevalent. After the death of the 10th Panchen Lama, the Dalai Lama recognized six year old GedhunChoekyiNyimaas the 11thPanchen Lama, but this petition was rejected by the Chinese government. The Chinese government then  appointed GyancainNorbu as the 11th Panchen Lama in the late 1995.
DorjePakmo
DorjePakmo is the highest female incarnation in Tibet,recognized by the Tibetan government and the holds the third highest rank in the Tibetan religious hierarchy after the Dalai Lama and Panchen Lama.
The first DorjePakmo named ChokyiDronma was a princess of the then Gungthang kingdom in the southwestern Tibet. She contributed to significant works in the fields of art, architecture and engineering. The present 12th incarnation of DorjePakmo is DeqenQoizhoin Rinpoche, born in the year 1942. She is still serving this position and has been contributing significantly towards the development and growth of the country.
Know more About Buddhist Religious Hierarchy Click Here