A business is made up of many persons having different job responsibilities, job titles & different levels of power in the corporation but working all together for the success of their business. If a person wants to know about how exactly a business works, he needs to understand the complete business hierarchy of that company.
Business hierarchies may vary depending on the country or according to some other factor. Since there are several levels divided on the basis on power, authority and responsibility in the business.
Higher the level is more is the power, responsibilities, authority and quite frankly more income in the business. While those who are at bottom have all these in least proportion. If you want to go through the UK business hierarchy then go through this article. This article explains all the levels of UK business hierarchy described in a descending order.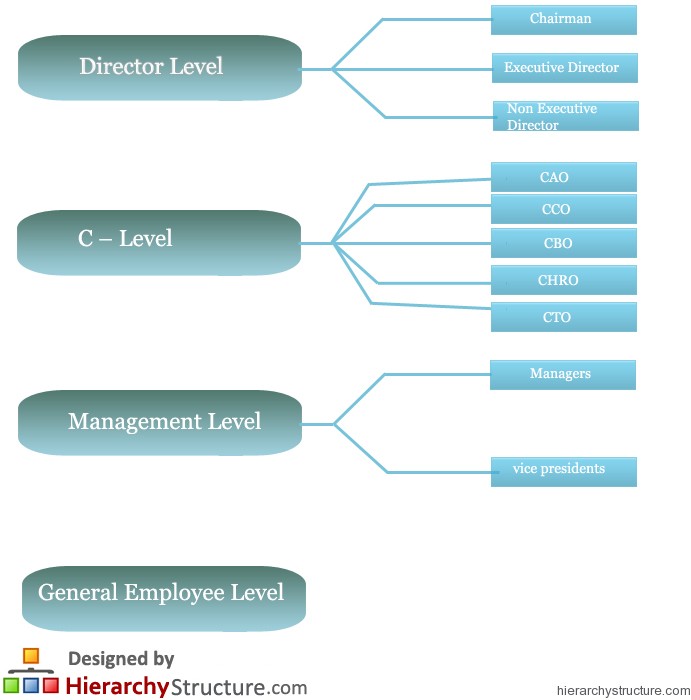 Director Level
In UK business hierarchy the highest power holding level in the business is Director Level. Officially authorized bodies of members who mutually join forces to direct the activities of a business are board of directors. This level incorporates all board of directors of the company. This level further got three sub levels which are –
Chairman – The highest officer rank in the board director level is termed as chairman. The chairman leads the business to manage the human, financial, technical along with environmental working of a business.
Executive Director – These directors are also referred as Inside directors. They are thoroughly reacted to the business. Their major responsibility lies in working in close association with board of directors to define the strategic plans and organizational objectives.
Non Executive Director – These are referred as an Outside director. These are part of the board of directors in the business but they are not a member of the business's executive management group.
C – Level
C-level incorporates all Chief executive officers of the company. The highest of them is CEO (Chief Executive Officer). He leads the entire business in absence of the chairman. The other C-level executives include CAO, CCO, CBO, CHRO, CTO, CIO etc.
Management Level
The next in the UK business hierarchy is the management level. This level includes all those personnel who are involved in the managerial roles for the business. This level includes all the company's managers, vice presidents of different departments. Some business's have quite more members at the management level in hierarchy than others.
General Employee Level
The last branch of the UK business hierarchy is the general employee level. This level has the greatest number of workers working under the managerial level professionals. Yet their authority, power, salaries, status is quite less than other levels in the UK business hierarchy. They are accountable for working according to the directions of their higher level professionals in the management.