The judicial system in United Kingdom is not unified as it is in other countries. In UK, there are a total of three distinct jurisdictions, namely the Courts of Scotland, the Courts of Northern Ireland and the Courts of England and Wales.
According to an act passed in 2005, a Supreme Court was established in order to head all the judicial functions and is now the court of highest order in Northern Ireland, England and Wales and the Scotland civil cases. To understand the hierarchy of UK Civil Courts, you can go through the following given information.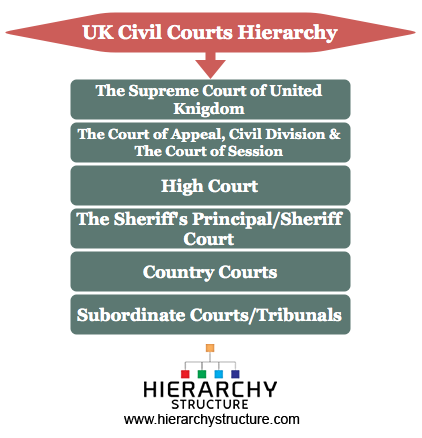 The Supreme Court of United Kingdom
This is the court which is the highest court of appeal for all the civil cases that occur in the whole of United Kingdom. It is the topmost judicial body in all three regions (i.e. England and Wales, Northern Ireland and Scotland) when it comes to civil cases.
The Court of Appeal, Civil Division and the Court of Session (Inner House)
The Court of Appeal is the judicial body ranked next to Supreme Court in both Northern Ireland and England & Wales. The civil divisions of the Court of Appeals deals with the appeals from the high court, court of crown, county courts and come other superiors tribunals/ courts.
The Court of Session is given the status of the highest civil court in Scotland, only next to the Supreme Court of United Kingdom. The court is both- the court of appeal, referred to as the Inner House and the court of first instance, referred to as the Outer house.
High Court
The High Court is the court which hears higher claims under the judicial system in Northern Ireland and England and Wales. The High Court is further divided into three segments and multiple other courts. The three major segment are- the Queen's Bench Division, the Chancery Division and the Family Division. All these hear different kinds of civil cases as assigned under different categories to them.
The Sheriffs Principal/ Sheriff Court
There is no High Court in Scotland. After the Court of Appeal, next in the civil judicial legal system in UK is the Sheriff Court which deals with all civil cases in Scotland.
Country Courts
These are the courts in the systems of England and Wales and Northern Ireland which stand at the position of general trial courts, hearing lower claims as against higher claims adhered to by the High Court.
Subordinate Courts/ Tribunals
These are many tribunals which cater to different specialist areas of civil law in England & Wales and Northern Ireland. They are at the bottom of the civil judicial system.