U.S. Bank or more formally- the U.S. Bancorp is an American company with its headquarters in Minneapolis, Minnesota. The company is a diversified financial services holding entity and is also the seventh largest bank in the whole of United States. The Bancorp operates in four different business lines, namely- the payment solutions & services line, the wholesale banking line, the consumer banking line, and the wealth management &securities services line. The US bank job hierarchy is defined by the management structure of the organization. The management is split into three top parts with varied job profiles in each. A description of each follows: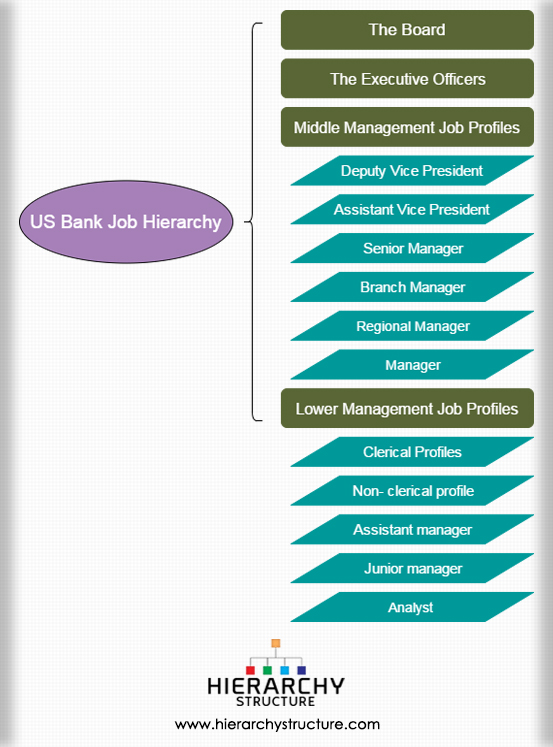 The Board:
At the top f the job hierarchy sits the board of directors which comprises of CEO of the corporation and the directors who are notable and experienced individuals. The number of members that make the board of directors for the Bancorp may vary from time to time. As of Jan 2015, there were 13 members in the Board with 12 directors in addition to the one individual assigned the profile of CEO & Chairman.
So all in all there are 12 directorial profiles and one CEO profile within the Board i.e. the top management tier of US Bank's job hierarchy.
The Executive Officers:
The second segment in the US Bank job hierarchy is taken by the chain of executive officers. These officers come second only to the board. The profiles in the executive officer's segment are established based on the different departments contained in the four line of business in the Bancorp. The list of executive officers profiles is as given below:
Chairman & CEO (this profile is the same as listed in the Board)
Executive Vice President, Human Resources
President & Chief Operating Officer, U.S. Bancorp
Executive Vice President, General Counsel & Corporate Secretary
Vice Chairman, Wealth Management & Securities Services
Vice Chairman, Community Banking & Branch Delivery
Vice Chairman, Co-Head Wholesale Banking
Vice Chairman, Payment Services
Vice Chairman & Chief Risk Officer, US Bancorp
Vice Chairman, Wholesale Banking
Vice President, Strategy & Corporate Affairs
Vice Chairman & Chief Financial Officer
Executive Vice President & Chief Credit Officer
Vice Chairman, Consumer Banking Sales & Support
Vice Chairman, Technology & Operations Services
All these positions have considerable amount of decisions making power and numerous duties/ responsibilities attached. The profiles are provided assistance by other profiles listed in the middle bank management segment below.
Middle Management Job Profiles:
After the Board of Directors and the Executive Positions, the middle management places third for share in the US Bank job hierarchy structure. Some of the profiles that come under this segment are as follows:
Deputy Vice President
Assistant Vice President
Senior Manager
Branch Manager
Regional Manager
Manager
These profiles exist in all department and sub-department at the Bancorp. The frequency for these profiles depends on the scope and requirement of the respective sub-department.
Lower Management Job Profiles:
At the bottom of the US Bank job hierarchy is list of profiles included in the lower management segment. The list of profiles is:
Clerical Profiles
Non- clerical profile
Assistant manager
Junior manager
Analyst