Every business needs many skills like determination, perseverance, creativity and flexibility to become successful.  To implements these skills it also requires efficient management. USA business hierarchy is one of most successful hierarchy in the world and most of under developed countries follow it as their role model for economical growth. American business culture is best example of corporate governance and business leadership.
USA business hierarchy structures are mostly created to achieve a goal as well as support everybody involved in the organization. In USA business governance designations, positions and duties are clearly mentioned. USA business culture also gives ample freedom to their people to achieve goal with rigid duties.   The USA business hierarchy includes following designations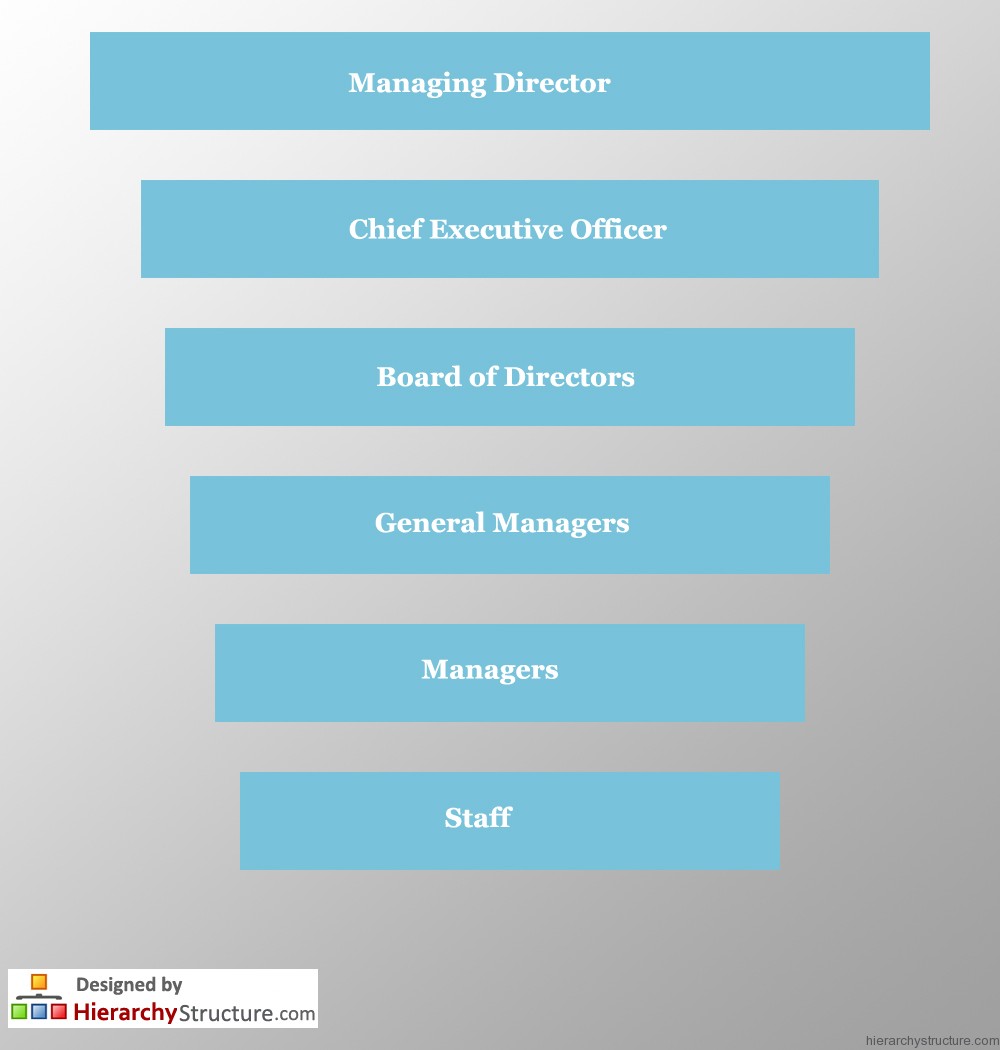 Managing director
Chief executive officer
Vice president
General Managers
Managers
General employees
Managing director
Generally managing director is founder of organization or his successor. The major role of managing director is to make sure that the organization achieves its goals, and he provides leadership as well as direction to the staff. He is the highest position in the organization.
Chief executive officer
CEO is the second highest position in the organizational hierarchy. The major role of CEO is to implement all decision taken by managing director and broad of directors. He is responsible for day to day running as well as management of the organization and overall performance of the company.  He has to develop and deliver organizations strategic plan in efficient and effective manner.
Board of directors
This group is sub-ordinate to managing director. Managing director delegates his responsibilities to the board of directors. It is a body of appointed or elected members who together oversee activities of an organization.  The duties of board of directors include governing the company by finalizing board policies as well as objectives.  Other major role of board of directors are approving annual budgets as well as ensuring the accessibility of financial resources.
General Managers
These people are responsible for planning, coordinating and organizing to achieve targeted sale and profit of the company. They provide vision and leadership to the company by assisting board as well as staff.  They are authorized to execute policies to strength the revenues as well as reduce operational costs, which translate into profit. Their title varies from industry to industry.
Managers
They concentrate on the strength of their staff and motivate people to deliver their best. They create favorable atmosphere for people to work for the growth of organization. The major responsibility of any manager is to utilize the system in such a manner that it can create internet profit. They play effective role to motivate staff for the betterment of the organization.
Staff
Every organization requires skillful and dedicated staff to establish in competitive world of business. Top level managements can make policies but it is staff which implements these policies in day to day business affairs. Hence role of staff is very important in the growth of any organization.