VMware Inc. is a company based out of the United States of America which makes provisions of the IT related virtualization and cloud software needs of all of clients. It was founded in 1998 and is based in the Palo Alto region of California. The company has developed a range of products and is focused on the IT sector including vSphere, Workstation, ThinApp, ACE, and Lab Manager Etc. The VMware job hierarchy structure is thus complicated. A detail note on the various positions in the hierarchy of this company is given below.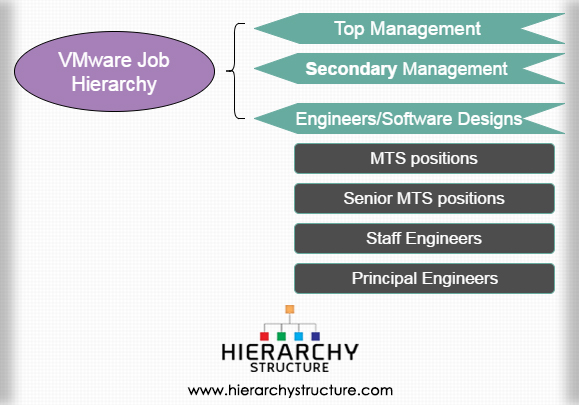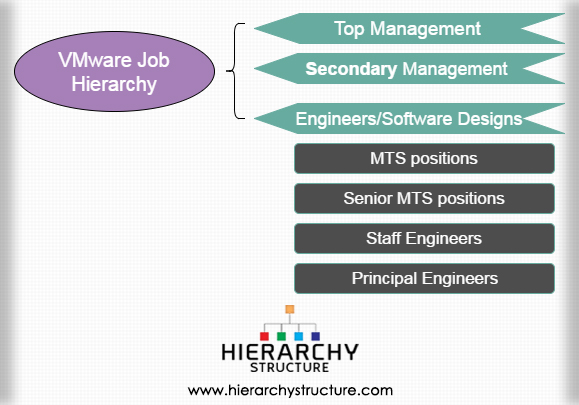 Top Management i.e. CEO, President, VPs:
The first and the topmost layer of hierarchy at VMware consist of the CEO, president and vice presidents. The CEO i.e. the chief executive officer at the top of the chain and all other employees in the company report to him/ her (directly/ indirectly).
The next in the chain after the CEO are the following positions:
CFO (chief financial officer) and Executive VP
Senior VP and General Manager, Hybrid Cloud Services Business Unit
Executive VP & General manager, End-User Computing
President and COO (Chief Operations officer)
Executive VP & General manager, Virtualization and Clouds Platform VMware
CTO (chief technical officer) VMware
Senior VP, R&D, Cloud infrastructure VMware
Lead technical recruiter
These different positions are the same level in terms of job hierarchy and are next only to the CEO of the company.
Secondary Management:
VMware management is divided on the basis of different products and business units. So while the top management consists of broad positions, the secondary management becomes more departmentalized. The positions in secondary business management include those of VPs for specific departments with more decentralization.
For example, in the Hybrid Cloud Business Unit department, headed by Senior VP & GM for the department, the positions in secondary management consist of:
VP Application Services Hybrid Cloud
VP, Global Channel Partners
Marketing Director, vCloud Air Network
VP, Hybrid Platform
VP, Cloud Services
Senior Director, vCloud Air Operations
Senior Director Solution Architecture
Similar job distinctions exist in all departments and the VMware job hierarchy owes its complexity to these distinctions.
Engineers/ Software Designs:
The next segment in the VMware job hierarchy consists of positions related to the designing and software development engineer of the products. The positions deviate from the management positions in this segment. Again there are similar positions for all of the different departments. Some of the positions in this segment include-
The MTS positions- the pay scale and the responsibilities attached to these position vary. Examples of positions included are-
MTS Development Engineer
MTS Quality Engineer
The Senior MTS positions- again, the pay scale and the responsibilities vary. Examples of positions included are-
Senior MTS Engineer
Senior MTS developer
Senior Quality Engineering Developer
Staff Engineers- these positions are on par with the manager and senior manager positions, hence making into this tier of job hierarchy. Included are-
Senior Staff Engineer- system architect
Senior UI Engineer
Senior Staff Engineer, Network Virtualization