Formal education in the US is divided into a number of distinct educational stages and levels. Most of the children get into the educational system by the age of 5 or 6 and begin their education with kindergarten or pre-kindergarten.  Over 12 calendars, 12 years of education is followed which covers both primary and secondary education.
The next level of education in the American education hierarchy is bachelor's level education followed by masters and then doctorate. Besides these disciplines, there are several other courses, vocational classes and other formal education options present which individuals are free to choose as per their interest or inclination. To know more about the American education hierarchy, you can read the following given information: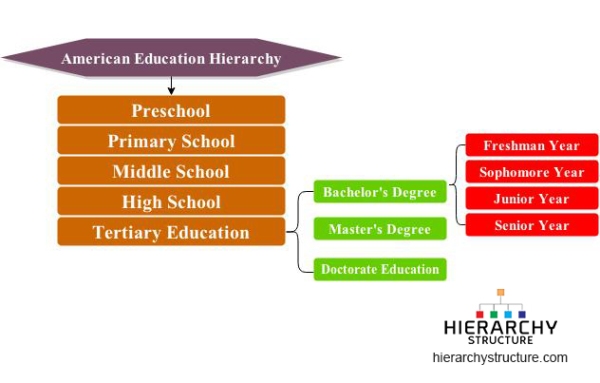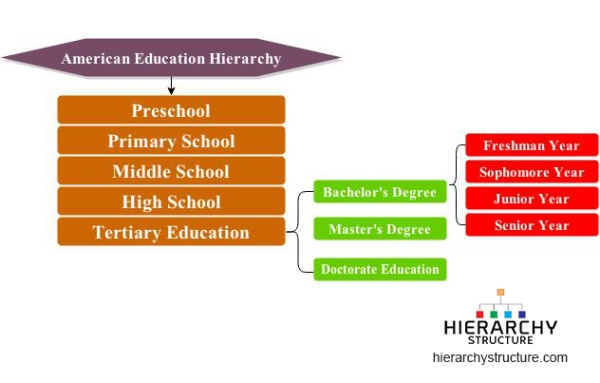 Preschool
Preschool or pre-kindergarten level education does not fall within the compulsory education bracket but it is a common trend these days that children between the age of 3 and 5 are sent to preschools to gain basic knowledge such as counting, color identification, knowing shapes, mingling with others etc.
Primary School
Primary school education is the compulsory part of elementary education and starts from the age of 5 in America.  It starts from kindergarten and goes on until the age of 11.  It mostly includes 1st grade, 2nd grade, 3rd grade, 4th grade and 5th grade in most of the primary schools.
Middle School
The next level in compulsory education is middle school.  Middle school in America starts from 6th grade and goes on until 8th grade. Often, middle school is also referred to as junior high school and lasts from the age of 11 to 14.
High School
High school in America begins when from 9th grade which is also known as freshman year and goes on until 12th grade which is known as senior year.  By the time high school education is complete, most students have turned 18.  This phase in school is often referred to as senior high school.
Tertiary Education
Tertiary education is not a compulsion but a matter of choice for students in America. Higher education usually starts with undergraduate school and then goes on till doctorate level education. The following are some of the subdivisions within this category:
Bachelor's degree-
Freshman year
Sophomore year
Junior year
Senior year
Master's degree
Doctorate education
Besides this, students can also take up diploma courses, vocational courses and other types of adult education ranging from research to professional courses.
Know about Education hierarchy in Canada.