The Australian army offices receive a commission from the Monarch who is currently Queen Elizabeth II of Australia.  But the governor general of Australia acts on her behalf. The rank division and hierarchy in the Australian military is similar to that of the British army and is a strict order which helps in the proper supervision and division of responsibilities.  These ranks are also present for proper administrative and promotional purposes.  The following is a detailed hierarchy present in the Australian military for your reference.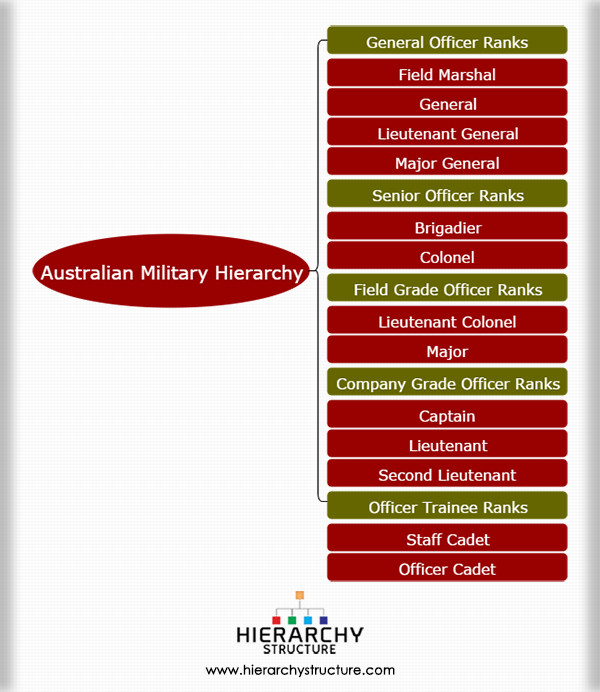 General Officer Ranks
On the topmost position of the Australian military hierarchy are the general officer ranks.  Within these ranks, there are several levels and positions which are given as follows:
There are no regular appointments for this rank and it is reserved for wartime and ceremonial purposes. Till date, only three men have been promoted to this position.
Ever since the second war world ended, this position has only been held in the case when an Army officer is appointed as the Chief of the defence force.
On the next position within the general officer ranks is the lieutenant general. This position is held by chief of army and in case when army officers are appointed to the joint positions of chief of capability department, vice chief of defence force and chief of joint operations.
This too is a high level general office rank but the lowest within this level.
Senior officer ranks
The next level is that of the senior officer ranks.  There are two main positions within this level and they are given as follows:
Field Grade Officer Ranks
These officers are those who mainly work on the field and handle the field operations. The two positions within this level are given as follows:
Company Grade Officer Ranks
Captain
Lieutenant
Second lieutenant
Officer Trainee Ranks
An officer cadet reaches this position after passing from the Australian defence force academy and on joining the Australia royal military college education as part of corps of staff cadets.
This rank is given to those who are still studying and gaining knowledge in the Australian defence force academy. This rank then changes to that of the staff cadet when they enter the Royal military college, Duntroon wherein they become a part of the corps of staff cadets.