Education hierarchy in Australia defines the educational ladder system in Australia. Basically the education is primarily the core responsibility of Australian states & territories. Every Australian state and territory government bodies provide the required funding for the proper regulation of private & public schools within their government areas.
The Education hierarchy in Australia basically follows a three tier system but there is one more system and that is pre schooling. Basically it is a part of the educational system but is considered associated with the primary system. This educational system is defined below with a brief description of all the levels in a down top pattern. The basic educational level is at the top and as the children moves upward in the educational system so does our hierarchy here in this article while ending with the highest educational level. Have a quick look –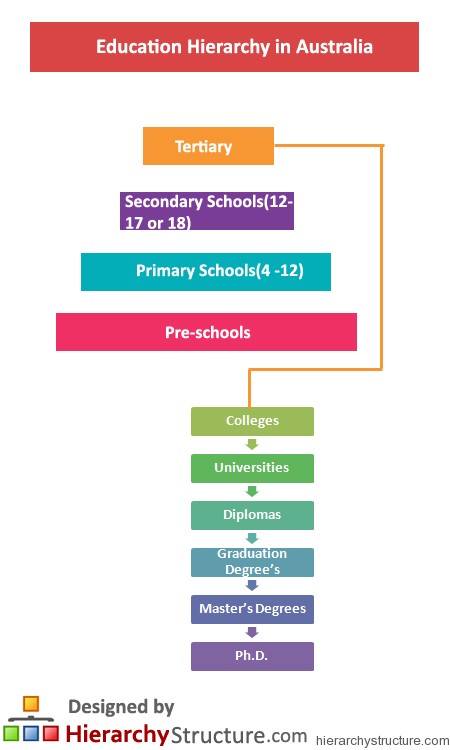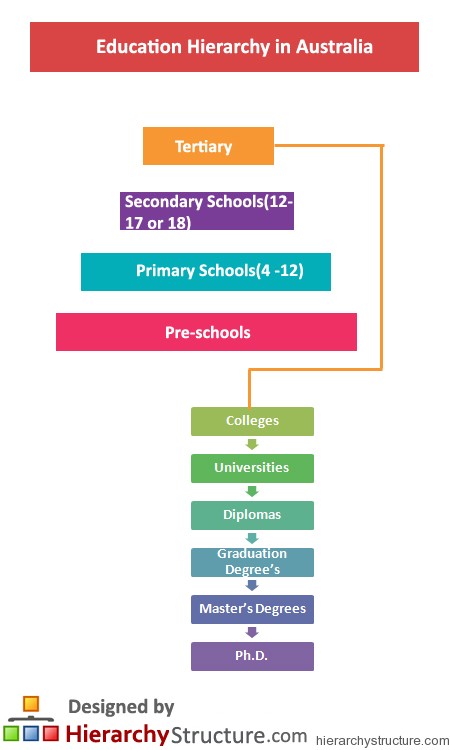 Pre-schools
In Australia, the pre schools are not compulsory and they are quite unregulated. This level is the first exposure that Australian kids have in their life towards the educational system. It is more of a day care for the kids since very little emphasize is put on the education. In Australia the pre schools are normally referred to as Pre-Pep or Kindergartens. Most of the pre schools are run privately.
Primary Schools
The educational level that follows immediately after the pre-schooling in Education hierarchy in Australia is primary schools. These are school Management system that provide elementary education to the children that acts as a basic foundation for their coming future. This is the first stage of Australia's compulsory education. In some states it gets divided into two more categories as lower primary schools and higher primary schools. Kids usually attend the primary schooling from the age of four to the age of twelve (sometimes eleven).
Secondary Schools
This level of hierarchy represents an educational organization where the education of second stage (among the three schooling periods) is provided to students. This second stage education is normally termed as secondary education. This is compulsory in Australia. It systematically follows the elementary education and is followed by the tertiary education. A child normally enters the secondary education by the age of 12 and leaves it by the age of 17 or 18.
Tertiary
Well the highest level of educational system of Education hierarchy in Australia is tertiary. It means the higher education which is not compulsory by the Australian government but plays a vital role in the hierarchy. It includes colleges, universities and graduate schools that offer diplomas, graduation degree's, master's degrees, Ph.D. and many more high level certifications authorized by Australian government. All the professional levels courses constituting the professional education on various streams is included in this level.
Well the basic categorization of tertiary qualifications is thoroughly governed by the Australian Qualifications Framework (AQF) along with the state governments. This education is often provided by colleges and universities.