Bank are the financial institutions as well as financial intermediary that effectively accepts the deposit from clients and then channel that deposit into various ardent lending activities by means of loans or even indirectly through capital markets. A bank is an exquisite connection between customers that have capital deficits and customers with capital surpluses.
Due to their great influence, there has been a huge demand of banking jobs among people of all age group. A banking career is considered quite reputational and elegant all over the world. Well there are many levels of jobs in the banking career path and all cannot be explained here but still the major job titles of a bank hierarchy jobs are explained below in brief with a little description.
The officers in the bank are segregated into several levels. The levels depend on the profile on which they work along with the department for which they serve their particular profile. The categories which have been defined in the bank hierarchy jobs are as follows along with the individual profiles under the appropriate levels.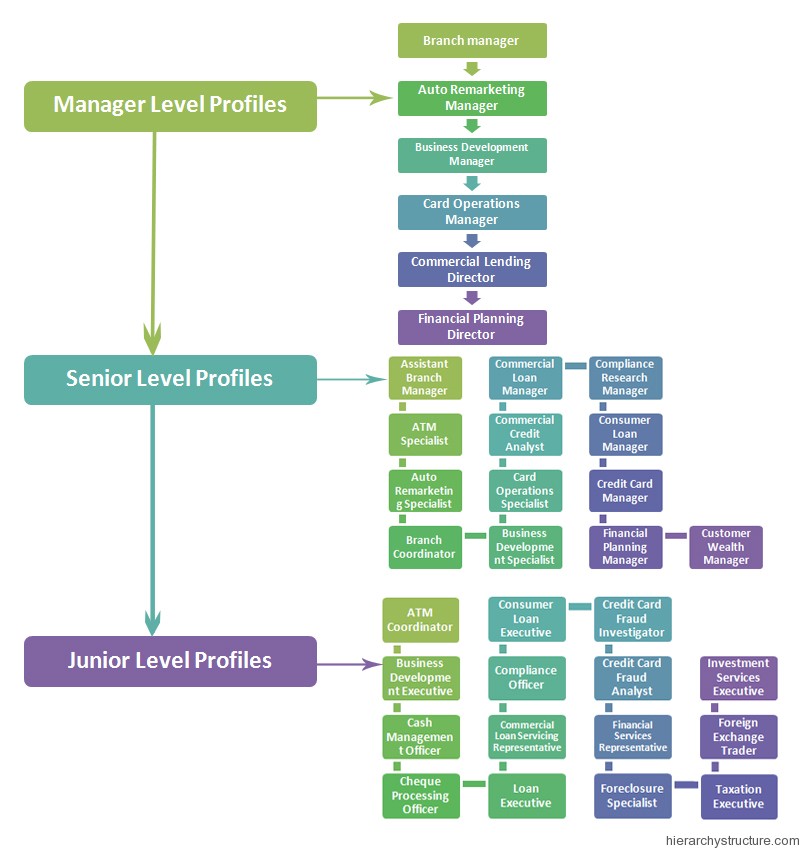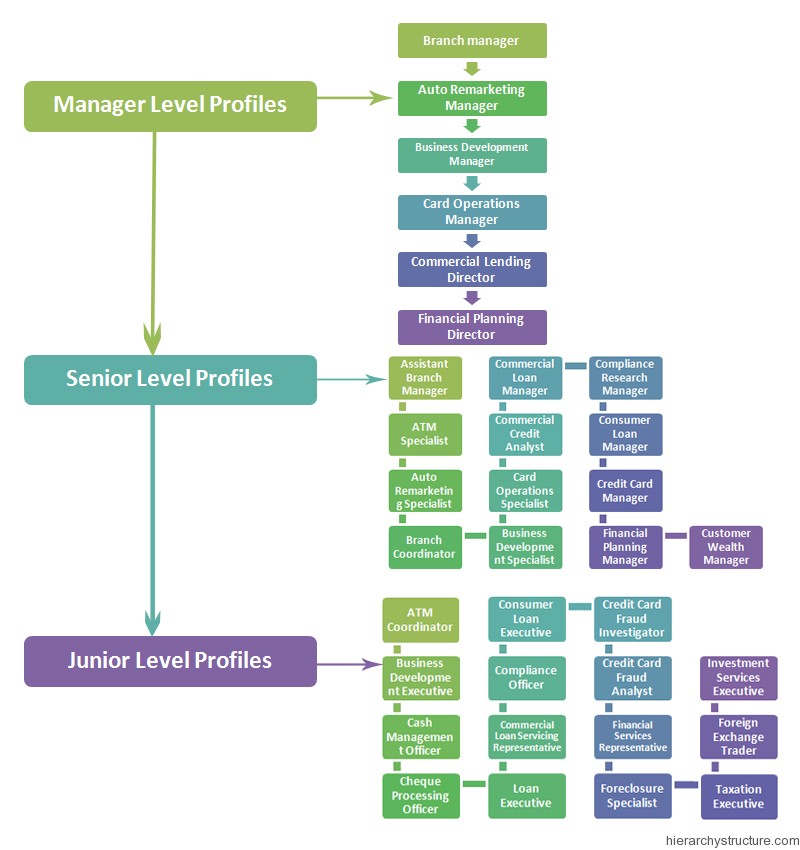 Manager Level Profiles
The Bank employees at this level are the professionals who serve the highest level job profiles in a bank. These job profiles are majorly planning and supervision oriented profile. The officers at this level work out on the various issues pertaining to the viability, profitability and brand management. They are also associated with overlooking the bank managers. The job profiles at this level include:
Branch manager
Auto Remarketing Manager
Business Development Manager
Card Operations Manager
Commercial Lending Director
Financial Planning Director
Senior Level Profiles
With the advent of many different banking and financial activities with the corporate world, the number of profiles at this level has increased. The managerial level positions in different departments are included in this level. The job profiles at this level include:
Assistant Branch Manager
ATM Specialist
Auto Remarketing Specialist
Branch Coordinator
Business Development Specialist
Card Operations Specialist
Commercial Credit Analyst
Commercial Loan Manager
Compliance Research Manager
Consumer Loan Manager
Credit Card Manager
Financial Planning Manager
Customer Wealth Manager
Junior Level Profiles
These are the job profiles which are served by entry level banking professionals and these levels include most of the interaction with individual customers of bank. These are majorly the job profiles in which the basic banking functions are performed by the professionals that can be categorized under day-to-day activities of banks. These are the operational level jobs and often the first step in the bank hierarchy jobs.
ATM Coordinator
Business Development Executive
Cash Management Officer
Cheque Processing Officer
Loan Executive
Commercial Loan Servicing Representative
Compliance Officer
Consumer Loan Executive
Credit Card Fraud Investigator
Credit Card Fraud Analyst
Financial Services Representative
Foreclosure Specialist
Taxation Executive
Foreign Exchange Trader
Investment Services Executive