Business analysts are greatly responsible for the success of a business and in securing the organization from potential risks. When it comes to the professional career of a Business Analyst, it must be noted that the roles and responsibilities vary widely depending on the industry, the line of business and the scale of operations. These people carry out analyses of documents and research data and compile them subsequently to arrive at particular result that would aid the strategic level in taking pragmatic decisions.
The business analysts also engage in decomposition of high level data or information for ease of interpretation. They collaborate with internal as well as external stakeholders so as to ensure the proper flow of pertinent information and drive business growth at an exponential rate.
Although, the terminology "Business Analyst" seems condensed and points to a single group of people, it actually can be disintegrated into various hierarchies performing different functions. The hierarchical profile of a business analyst career is a flattened out one thus indicating reduction in profiles for efficient management.
The hierarchies can be broadly classified into four levels as follows: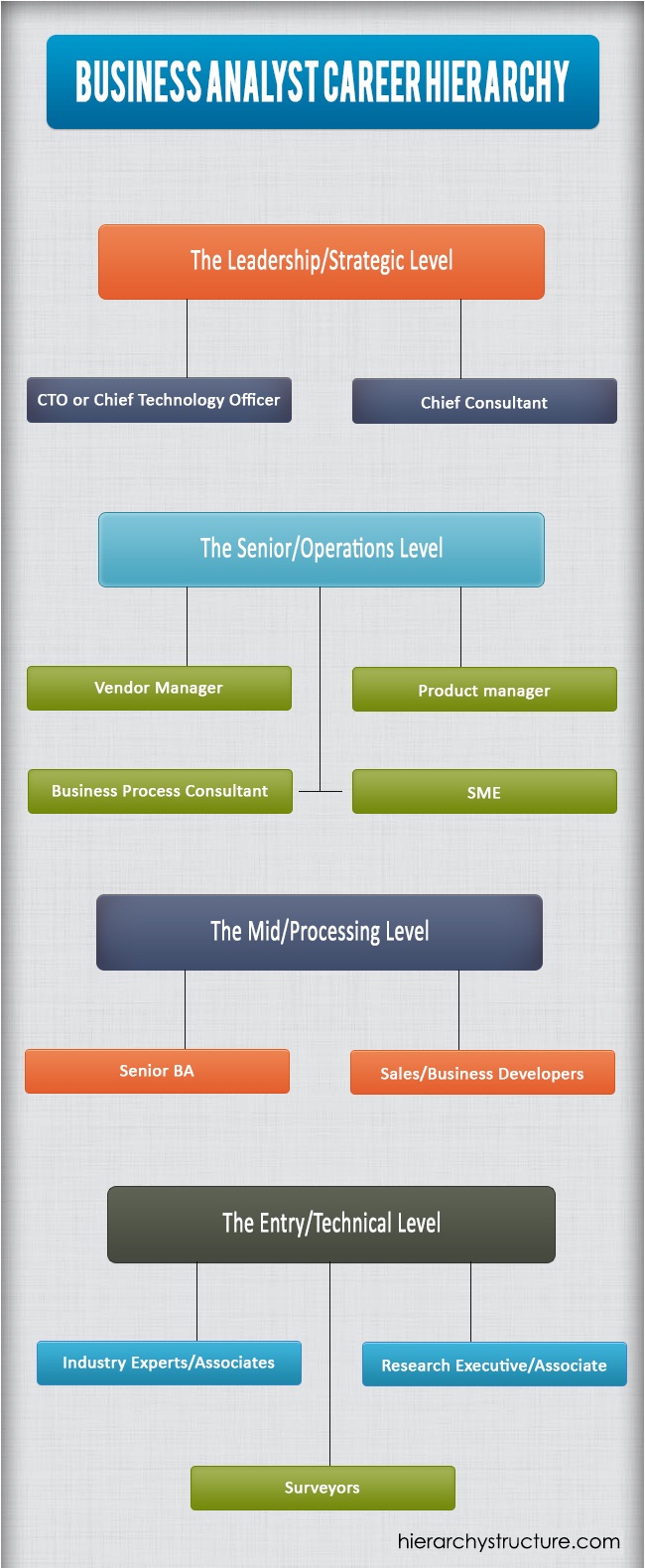 I. The Leadership/Strategic Level
Here the strategic business needs of the organization are identified and analyzed. This is headed by top notch analysts with vast market insights. People belonging to this level are the decision makers who weigh the options of business growth and have a high degree of responsibility. The job titles in this hierarchy are:
CTO or Chief Technology Officer
Chief Consultant
They decide on the technological platform to be incorporated that would not only suffice their requirements but would also meet client needs profitably.
II. The Senior/Operations Level
This particular hierarchy is engaged in overseeing the operational functions of the organization. They analyze the approach and policies of the strategic level and boil it down to a comprehensive one. Subsequently, this is communicated to the next hierarchies for proper execution. The job profiles are:
Vendor Manager
Product manager
Business Process Consultant
SME
Here, the personnel coordinate and report the activities among each profile and communicate the same to the CTO or Chief Consultant.
III. The Mid/Processing Level
This level comprises business analysts who actually do the job of compiling the collected data and designing certain business models. These models are put to test for effectiveness and are subsequently communicated to the clients for implementation. This includes:
Senior BA
Sales/Business Developers
IV. The Entry/Technical Level
This level consists of fresh graduates with the prerequisite acumen to collect the relevant data from primary sources in the industry and identify the factors that would help in designing the business model. The job titles are:
Industry Experts/Associates
Research Executive/Associate
Surveyors
So it can be inferred that the flattened hierarchical structure involves proper dissemination of information and coordination among each other so that the right technological platform is incorporated to design models which would complement business development operations and strategies of clients.