Business analyst hierarchy can be considered as the hierarchical structure of the professionals dealing with the business analysis at various levels in the organization. Business analysis at each level of the organization is quite significant activity that always adds up to the effectiveness of the organization and always helps in enhancing the productivity, provided analysis is done positively.
Business analysis refers to the continuous evaluation of business processes, levels and business activities being conducted at various levels in the organization. This analysis helps to bring forward the inconsistencies in various sections of the organizations and may even help to locate the incompetence of the organization as a whole & individually of the people involved with the organization.
So, like all the other hierarchies that exist in business organizations, one more hierarchy is required that is, the business analyst hierarchy. Business analysis hierarchy completely depends on the assignments of the levels of authority and roles of each position in the organization. For example, in a vertical hierarchical structure the line managers are positioned on the bottommost level while middle managers acquire central layer and senior managers sit at the topmost layer in the hierarchy. Business analysis hierarchy starts here with the accrual analysis of the things that increase from bottom to the top and vice-versa in the hierarchy.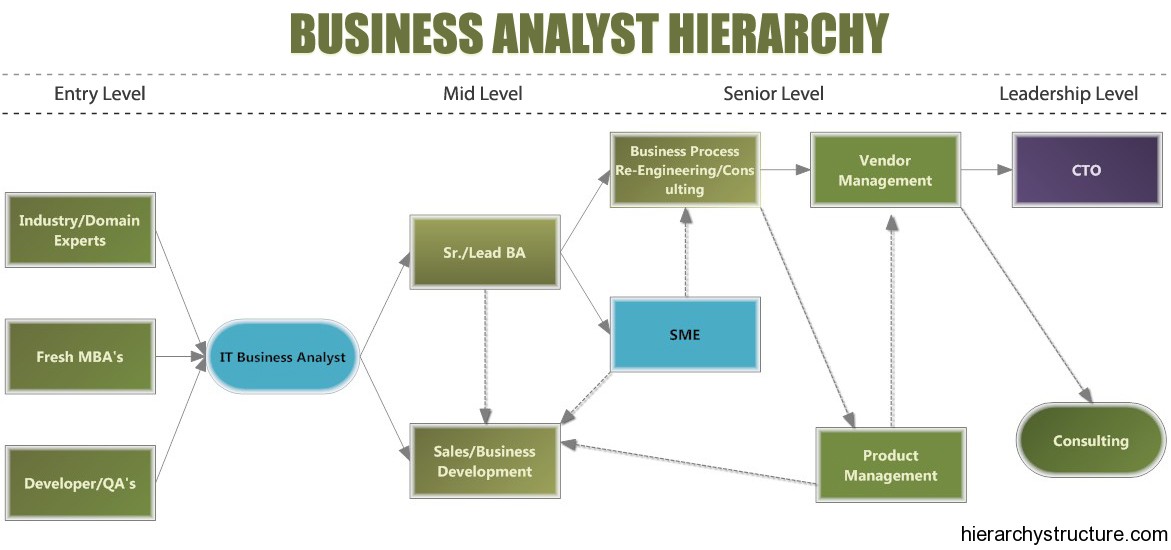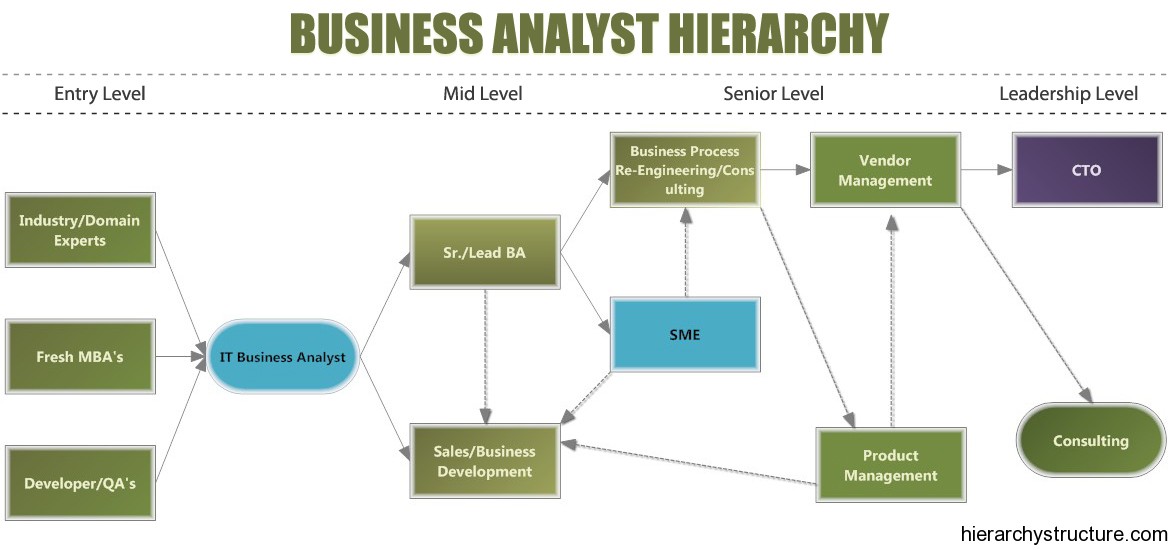 For example, authority decreases from top to the bottom along with the responsibility & accountability. A business analyst hierarchy can be evaluated by the exact analysis of degree of separation between the Business Analyst job responsibilities, duties and authority of a line personnel and a manager. It has been observed that during the last two decades, organizations managed to move from stringent hierarchies to a flatter management hierarchy. This paradigm shift has acted as a force which resulted in reduction of different layers of middle layer managers. It has even helped to reduce the unnecessary job profiles that used to exist earlier.
Flattening of a management hierarchy reflects reduction in different management profiles while the managers have got more responsibility than they used to have in the earlier vertical hierarchies. Various management level positions have condensed into very fewer management level positions and certain tasks that were earlier in the responsibility list of the managers have now shifted to the skilled & specialist employees like lawyers, policy experts and engineers who perform them without much supervision.
An effective business analyst hierarchy can help the business organizations to bring notable improvements in the productivity levels, and it may even help in enhancing the job satisfaction & motivation among employees. We always consider the materialistic factors as the motivators for the employees, but after reaching a certain level in the business analyst career, every professional needs satisfaction in terms of the work he is doing & his professional achievements. The most significant advantage of business analysis and business analyst hierarchy may help in achieving this level of motivation among employees, and in return it will definitely account for the professional growth & development of the organization itself.