Every business is divided into certain levels or departments to ensure division of duties and smooth functioning of the organization. This very act of dividing them into level is known as the hierarchy structure or structure hierarchy. Business structure hierarchy may be different for different companies but in a broader sense, it remains the same.
Business structure hierarchy helps businesses in many ways. People placed at the lower rank or level are comparatively experienced and those at the higher levels are have more skills, more expertise and more experience. The following is a detailed business structure hierarchy which companies follow.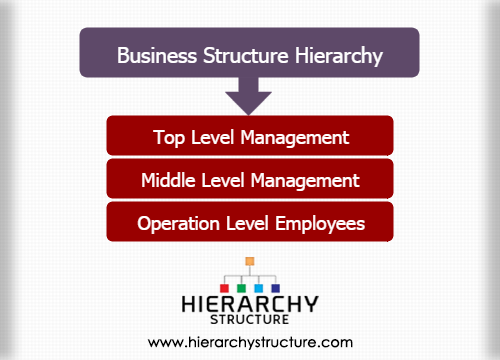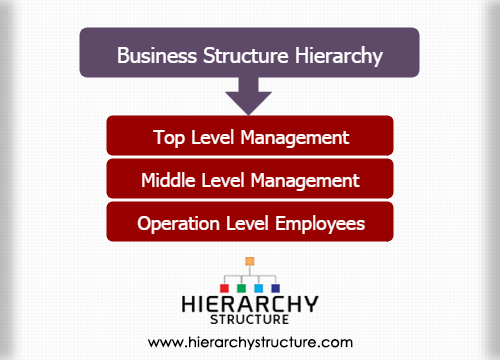 Top Level Management
Middle Level Management
Operation Level Employees
Top Level Management
The top level management is the highest level of management in a business and consists of people like CEOs, Managing Directors, and General Managers, Presidents, and Vice Presidents and other higher level executives. These are those personnel are responsible for the planning of the business and also overseeing its performance.  They perform administrative duties and are engaged in doing both internal and external scanning tasks. They must make sure the business succeeds properly and must make the main decisions for the company.  They must navigate the business activities and give instructions to subordinate level executives.
Middle Level Management
The next or second level in the structure of a business hierarchy is the middle management level. It comprises of the managerial professionals including assistant managers, managers, senior managers etc. These professionals must manage the activities pertaining to the actual usage of the resources and leading the employees to the objectives of the firm. They are need to do the planning activities in order to achieve the organizational goals framed by the top level executives or management.
These individuals are also required to gain operational and financial objectives every year. Their major concentration is on striving liquidity, profitability, effectiveness and efficiency.
Operation Level Employees
This level lies at the bottom of the pile in a business structure and is comprised of the front line employees who perform the everyday tasks of structured nature and deal with the segments of functions. These individuals must be associated with resource utilization and machinery etc. These employees are known as operational level employees because employees at this level and their supervisors are engaged in actual implementation of technology or in the production of the organization's products. They work towards efficient and effective implementation and must work under instructions of their supervisors.