A catering company is a kind of a company which is engaged in catering food and drinks to clients on request. Such companies not only include the cooks and servers but also a whole management team which handles the main tasks such as marketing, client communication and management etc. the various departments and job positions of a catering company are divided into a hierarchical manner which means that those at the top have maximum experience and responsibilities whereas those at the lower end may have small roles and responsibilities. The following is a detailed account of the hierarchy of a catering company.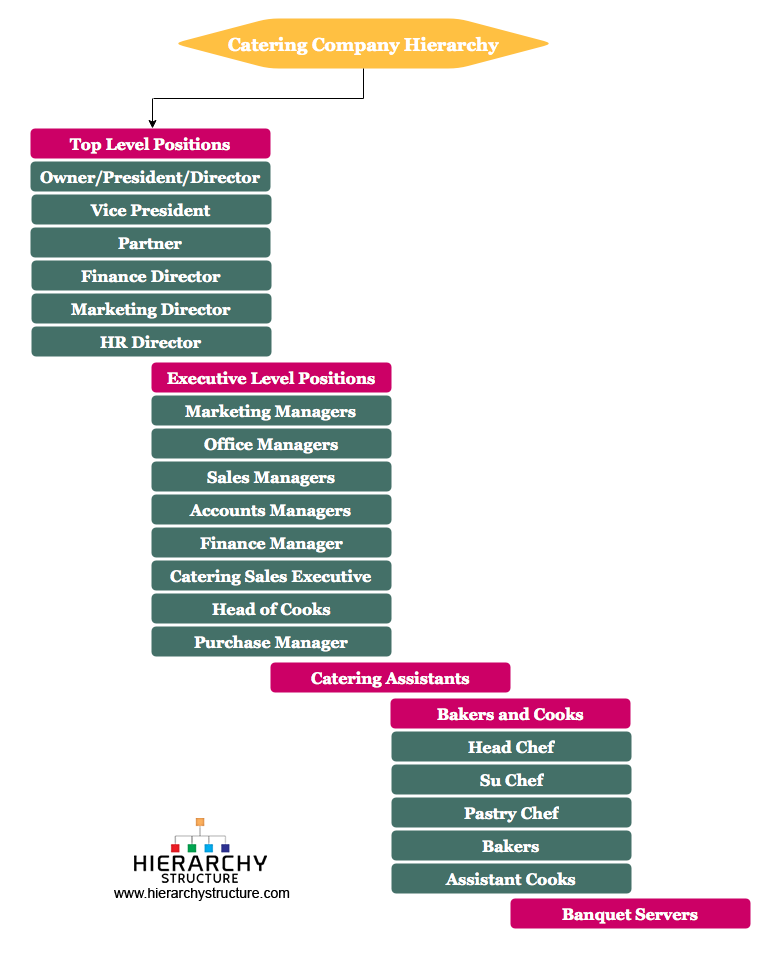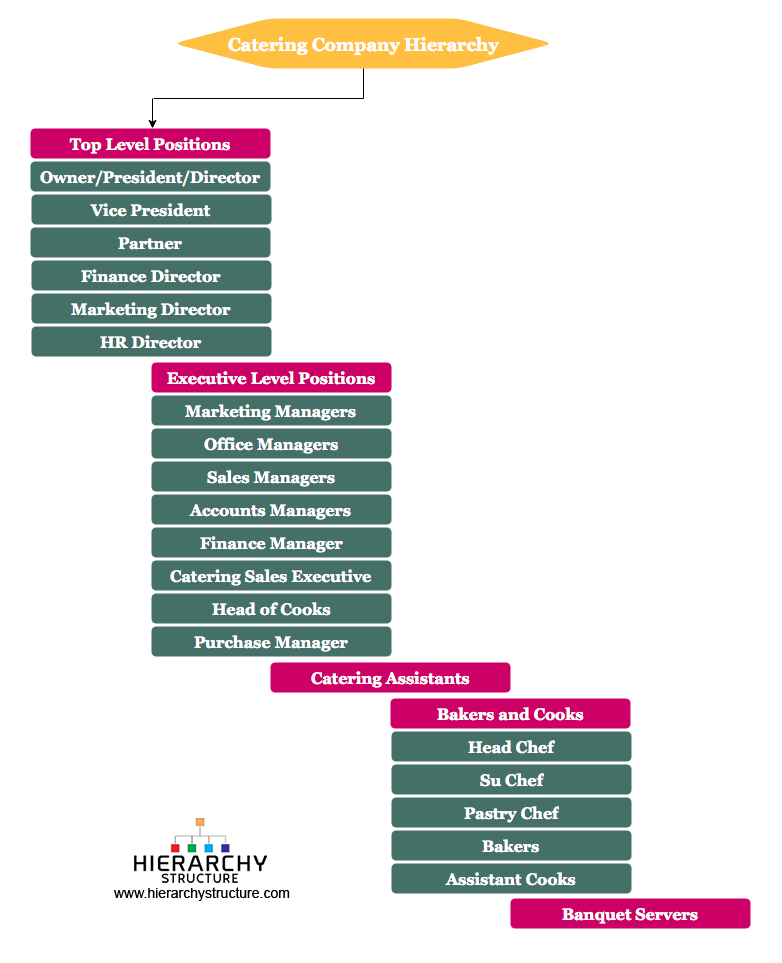 Top Level Positions
In a catering company, there is always an owner or a director who owns the company and makes most of the decisions. Besides the owner, there are several other senior level employees who make policies, take care of benefits, make company objectives etc. the following are some of the top level positions in a catering company:
Owner/President/Director
Vice President
Partner
Finance director
Marketing director
HR director
Executive Level Positions
Besides the top level or senior positions, a catering company also has executive level positions. Executive level positions are those which are associated with handling day to day administration, finance, accounts and sales etc. the following are the main executive level positions:
Marketing managers
Office managers
Sales managers
Accounts managers
Finance manager
Catering sales executive
Head of cooks
Purchase manager
Catering Assistants
Besides the above positions, a catering company also has catering related positions such as that of catering assistants.  Catering assistants are those individuals who provide clerical as well as administrative support to the catering managers.  Some of the main responsibilities and duties of catering assistants include handling contracts, managing catering records, making and receiving calls. Assistants must be able to use catering software to handle catering records etc.
Bakers and Cooks
Bakers and cooks form the backbone of a catering company and are also the mainstay of the business. These individuals are responsible for making dishes according to the request and requirements of the clients. The following are some cooks and bakers:
Head chef
Su chef
Pastry chef
Bakers
Assistant cooks
Banquet Servers
These individuals work for the catering company and play the role of serving food to the guests.  They help catering managers and must possess good interpersonal skills and experience of the industry.  These individuals must be well dressed and well behaved as well.
Know more about event management hierarchy: Click here