Education may be defined as the form of learning through which skills, habits and knowledge of one group are transferred from one generation to the other with the means of training and teaching. Education is indeed the most important thing in one's life which inculcates the habits and knowledge in an individual with which they in their entire life can move forward both professionally and personally. Education system hierarchy refers to the hierarchical structure that is followed by the education system in almost all the countries over the globe through which children are educated with similar set of knowledge depending on their age group.
This hierarchy covers the system of education that involves institutionalized learning and teaching. Following are the major levels that compose the education system hierarchy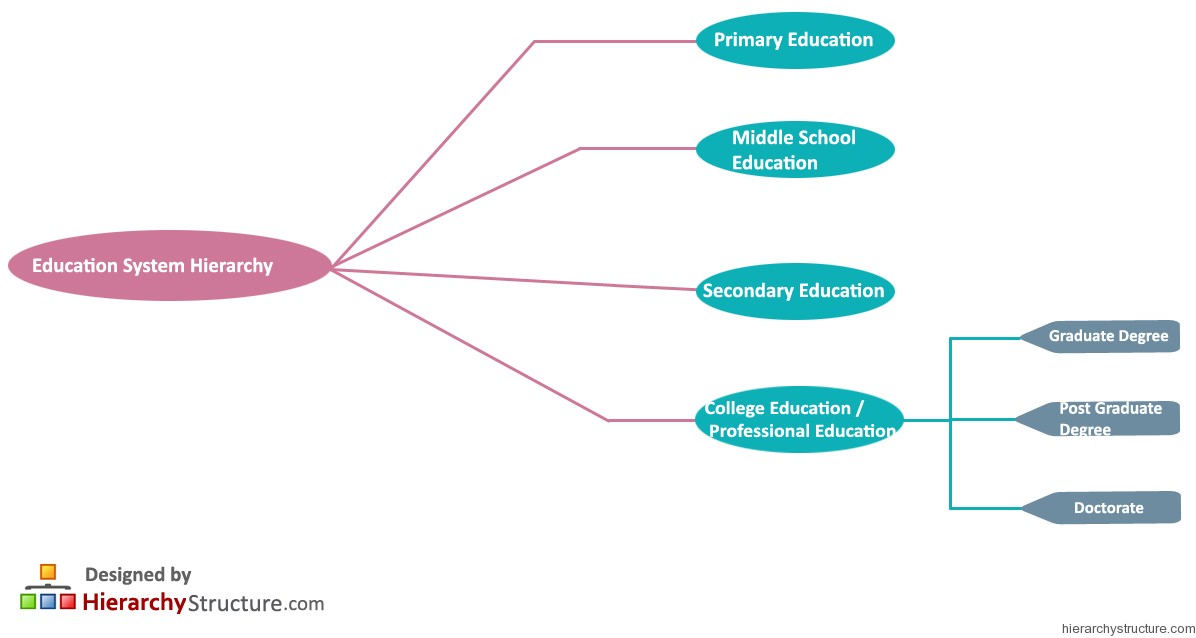 Primary education
Middle School Education
Secondary Education
College Education / Professional Education
Primary Education
Primary or elementary education is the first set of academic learning that a child receives in the initial years of his/her age. This education is quite important as it is the initial step of a child in the education environment and the competitive world. The children are taught the basic fundamentals of education at this stage and a child gets his primary education generally till seven years of age.
Middle School Education
This is the second level of education system hierarchy which is commenced right after the primary education. The middle school education starts from 3rd or 4th year of education and continues till 8th or 9th year of education. The education delivered at this age is considered as a part of secondary education in most of the countries education systems. In this age child receives the elementary education related to the different subjects.
Secondary Education
The secondary education is the formal education with which a candidate is introduced after he completes 8 – 9 years of school education. In this formal education a child is taught about the particular subjects in detail and is prepared for the college and university education and competitive entrance examinations.
College Education / Professional Education
Once a child completes the school education, he /she is introduced to the professional education which pertains to a specific profession. At this stage a student is taught the detailed technicalities of a particular profession and is made to learn the skills in his or her professional career. The education here is further of below type –
Graduate Degree – The graduate program is entry level education in the category higher education and its span is generally between 3 – 5 years.
Post Graduate Degree – This program is continuation of the graduate degree program and takes a student into a little deeper details pertaining to the subjects. Its duration is either one or two years, but in some cases it may extend up to 3 years as well.
Doctorate – This is quite high level education typically taken in approximate three or more years.
know more about school management hierarchy