The finance department has great importance in the success of any business and it is the backbone of organization's process and operations. No business can run without finance and effective management of available finance is the key of success. The role of this department is very vast and includes recording of operating transactions, preparation of financial statements and then analyze them. It also ensures that policies and internal mechanisms comply with industry practices, human resources policies and regulatory standards.
The role of financial department hierarchy includes tax planning, investment analysis, financial analysis and accounting. It has to assess operating performance of the organization for profits and non-profits. The financial department hierarchy helps an organization's management to understand developments in economic activities as well as to enable them to take adequate strategic decisions. The department is responsible for sufficient cash flow to meet day-to-day activities of the company.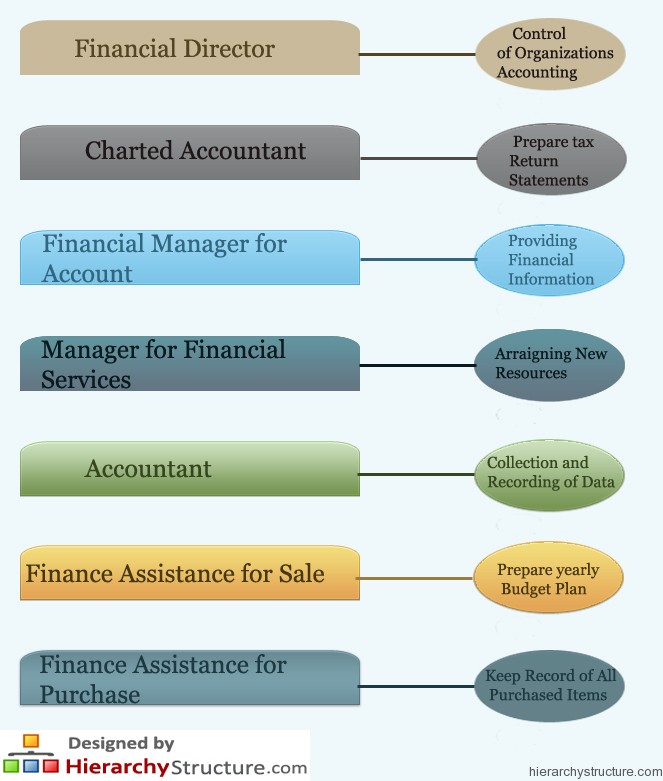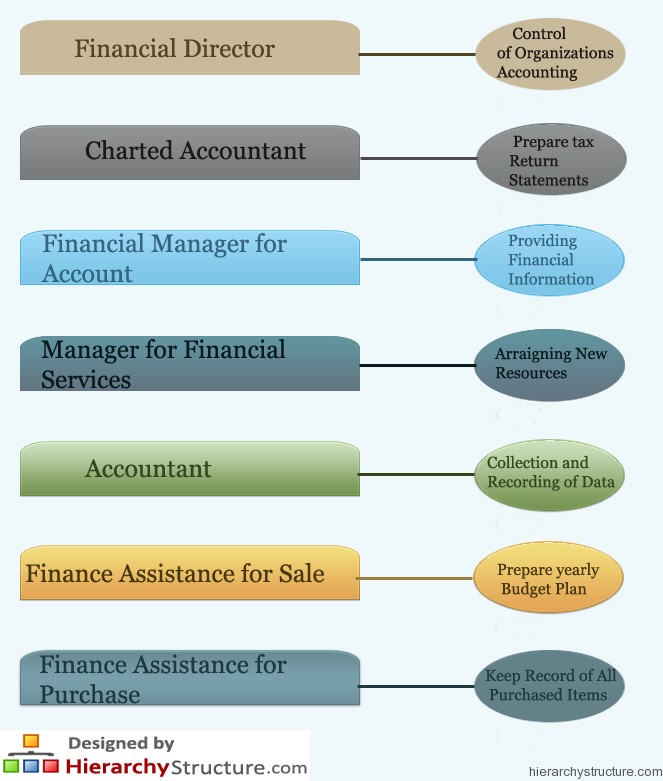 Following is the financial department hierarchy
Financial director
Charted accountant
Financial manager for accounts
Financial manager for financial services
Financial accountant
Finance assistant for sale
Finance assistance for purchase
Financial Director
He is responsible for overall control of organizations accounting function. He has to formulate financial targets as well as budgets according to strategic plans determined by board of directors. He has to manage policies of the company regarding taxation, capital requirements, debt, acquisitions and equity.
Charted Accountant
Has to prepare tax return statements of all taxes. He has to establish an efficient accounting system. He has to make careful analysis of accounts as well as review of pervious accounting records. He has to prepare annual accounts and have to manage taxation process of the company. He has to also deal with budget control and investment projects.
Financial Manager for Account
He is responsible for interpreting and providing financial information. He has to make monthly salary statement of all employees. He also monitors cash flows as well as predicts future trends. He has to make research on factors influencing on business performance. He has to analyze market and competitors trends.  He has to work for cost effective financial management to increase the profit of the company
Manager for Financial Services
He is responsible for arraigning new resources of finance for organization's debt facilities. He has to keep watch on changes in financial legislation and regulations. He has to build healthy relations with auditors, bankers, statutory organizations and solicitors.
Accountant
Performs many functions such as collection and recording of data. He has to analyze organization's financial operations. He also reviews and analyzes expenditure and budgets of the financial company. He has to review and monitor accounting reports for completeness and accuracy.
Finance Assistance for Sale
He is responsible to prepare yearly budget plan for promotion of the company. He has to keep record of expenditure required for sale transactions such as salary of sale staff and advertisement expenditure for promotion of sale.
Finance Assistance for Purchase
He is responsible to keep record of all purchased items required for business affairs. He is responsible to negotiate prices, to find out best services or goods and choose suppliers.