Hierarchy of education in England refers to the organization or step by step progression of education in the country.  The education system in England is governed by the official 'department of education' with support from 'Department for business, innovation and skills'.  The education system in England is divided into 4 broad levels which start from nursery education and go upto higher level education which is also termed as tertiary education.
In this country, children of age 3 can enter compulsory education schools and usually complete their secondary education by the age of 17-18. If you wish to understand the hierarchy of education in England a little better, you can go through the following given information.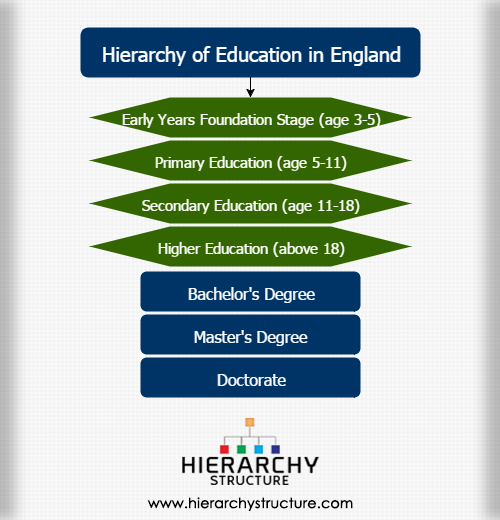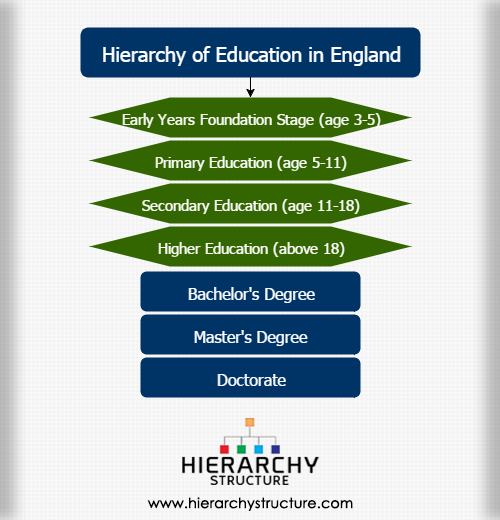 Early Years Foundation Stage (age 3-5)
This is the most basic and starting stage of education in England. This system of education is handled in England by pre-school education institution which makes sure that all kids receive proper care, guidance, learning and attention. At this stage, focus is more on basic subjects and concepts like shapes, numbers, colors, birds, animals, basic math and others.  At this level, the child learns how to go out of home on his own and meet others.
Primary Education (age 5-11)
This is the next level of education in England and is one where kids get their first stage of elementary education. At this stage, children are exposed to new concepts, more subjects, complex activities and this helps them enhance their own skills and learning.
Secondary Education (age 11-18)
This is the stage of education in England which starts from the age of 11 and goes onto the age of 18. This is the most advanced education stage in school and is one where students need to choose specialization subjects, participate in many complex activities, learn higher level subjects and also develop their personalities.
Higher Education (above 18)
Higher education degree or tertiary education is the education which one can choose to pursue after schooling. This is not a compulsory part of education in England but those who pursue it stand a better chance at a good and successful career ahead. This stage is further subdivided as follows:
Bachelor's degree-this is the stage of the graduate program where students obtain bachelor's degree by attending 3-5 years of education. This is the stage where students specialize in subjects of their choice and attend college or university for the same. Within this stage, many sub stages or categories are present.
Master's degree-after completing graduation, one can choose to pursue master's degree or post graduation in England. Those who complete this stage gain more specialized knowledge in a particular subject and are eligible to pursue doctorate course after that. Master's degree programs usually last for either 1 or 2 years in England.
Doctorate-this is the highest level of education in England and usually lasts for about 3-5 years. After this level, a person gets the title of a Doctor in his/her area of specialization. This stage is seen as the most respected education stages in this country.