One of the vital functions of any business is maintaining its products and service quality throughout its course of operation. Any company or project, let's take software engineering for instance, providing efficient and high quality service is crucialfor both, the engineering enterprise and client. The growing importance of services sector in the global economy has led businesses and consumers feel concerned regarding the quality of service offered.
Once a desired service level is attained maintaining service standards at excellent level is the greatest challenge faced by service providers. However, businesses today can measure and maintain service quality through various systematic approaches; the two most popular approaches being Reactive and Proactive.
Reactive – Reactive is going back to the predetermined service quality once a complaint is raised.
Proactive – Proactive quality check approach involves actively reaching out to clients and gathering feedback on service quality. This can be done through either Gap Analysis, Staff Training or Surveys and Questionnaires. Once the result is acquired, businesses proactively work on service quality improvement by adapting or changing what is required.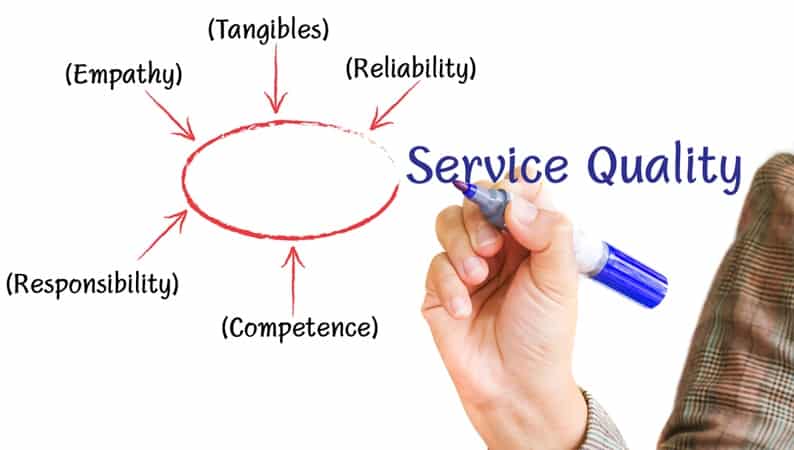 Measuring Service Quality in Business
When it comes to service quality maintenance, a business should set aside resources for measuring service quality. One should arrange the resources based on particular parameters that depend upon the , service provided, and customer expectation. A metric is formed to measure service quality in business.
This can be done by Service Quality Managers or Service Quality heads in an organization.
Let's take a banking sector for example. The metric set for measuring service quality of bank staffs could be professional skills that include Quick Response, adequate banking knowledge and so on, Ease of Access such as number of branches, working hours, ATMS etc., and Presence of the Bank, including appearance of staffs, interiors and facilities inside the bank.
Service Quality Hierarchy
Developing a hierarchy structure to measure the service quality of businesses is a trending approach adopted by several top notch industries. Hierarchy structure of service quality is predominant aspect in a large scale business's smooth growth, especially which has multiple service lines.
One can draw quality service hierarchy diagram that classifies information by drawing with broad categories (Quick Response for example) and narrowing down to more detailed but less important levels (staff skills or banking knowledge).
Just like organizational charts, a Service Quality Hierarchy can be presented in vertical as well as horizontal format and usually takes the shape of a tree with branches depicting multiple levels of service.
Benefits of Having a Service Quality Hierarchical Structure
It helps the various levels of managers to effectively understand and evaluate the details of each service and sub service, moving from general to specific.
It provides them clear head start on specific service quality and not the entire service as a whole. For example, there is a constant issue logistic service process section of a fresh food chain logistic service company. Now, Logistics is a large and overbearing section with many levels of internal operations. With the help of a hierarchical structure, you could easily discern where there are glitches. The sub levels of logistic service process may include fresh food temperature control, timeliness, processing food safety, response to customers and traceability.
Hierarchical Structure of a Service Quality provides a visual representation of the various levels of services in detail. This makes it easier for managers and staffs to understand the bigger picture acutely. In a beauty parlour, if a customer is not satisfied by the facial treatment, the owner can go through the levels of hierarchy including the facial treatment staff skill– the product used which will also have sub categories like creams, mask, scrub etc. and the cost.
Steps in Developing Hierarchical Structure of Service Quality (Example for initiating a banking service)
Step 1 – Firstmark the intent of creating the diagram on the top. (Banking Service)
Step 2– Brainstormand write down all the possible categories that would include in the system and its sub parts (Training, Services offered, Training, Documentation, etc.Sub parts for training is expertise and number of skilled people)
Step 3 – Groupthem logically. (Communication includes – meetings, posters, invitations etc.)
Step 4 – Decide if the information placed is correct and complete.
Step 5 – Remodel or change the groups and sub groups under appropriate headings.
Step 6 – Repeat Step 4 and 5 until the hierarchy focuses the purpose of the vision and can be easily comprehensible by a third person.