The Motorcycle clubs follow a formal hierarchy that is similar to each other. They have a President, a Vice President, Secretary, Treasurer and a Sergeant at Arms, who are known as officers. The election of the new officer is made when an existing office-holder is not able to carry out his job diligently or because of an imprisonment or sickness.
These gangs hold meetings on a regular basis where attendance is compulsory. Most of these gangs also run democratically with every member having a single vote each. The chapters which are groups of gang members under one president have their own set of officers. Below given is the motorcycle gang hierarchy.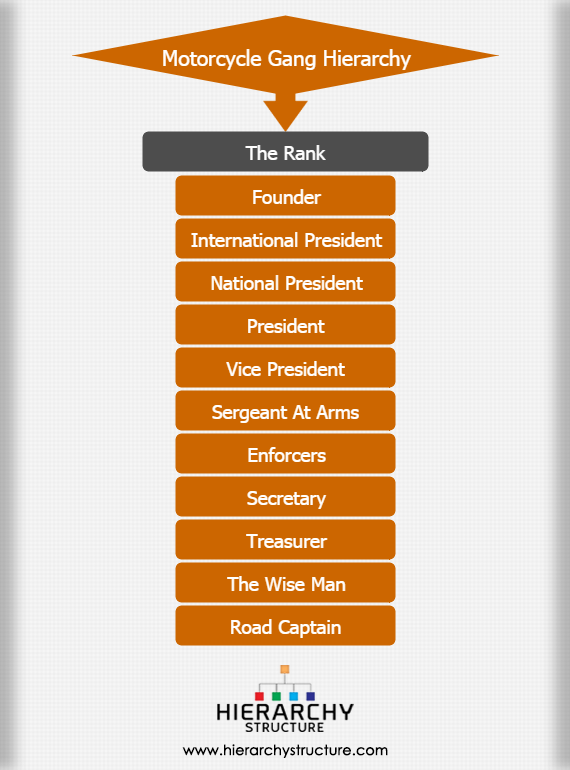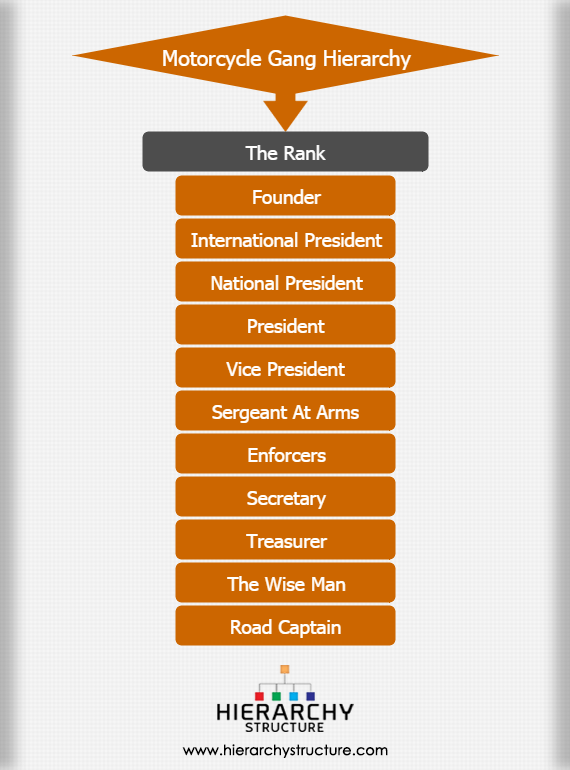 The Ranks
Founder
There could be one or multiple founders and once each of them start a chapter of a group, they get their bike and are considered as co-founders, wearing a specific patch. If a chapter has a founder or a co founder, then there is no President.
International President
He is the figurehead of the club worldwide and takes decisions on behalf of all the chapters of the world.
National President
He is the one who talks in the name of the club in his country and gives opinions or takes decisions on all the chapters that he is in charge of in the country.
President
The leader of the chapter is the president. He is the club's figurehead and the chief spokesperson when dealing with media or police. He is the chairman of the club meetings and is the representative of the chapter in the national meetings.
Vice President
He is second in charge and takes a call when the President is away. He is the heir-apparent and looks after the smooth conduct of the club meetings.
Sergeant at Arms
He is the policeman of the club enforcing club procedures and maintaining order in the club meetings.
Enforcers
They are the assistants of the Sergeant at Arms and are mainly the security force of the gang.
Secretary
All the paperwork of the club is handles by him. He keeps the minutes of the meetings and records all the dates of significant events.
Treasurer
Known as the money man he is in charge of all the fee collection, paying of bills and running funds. He in fact handles all the proceeds of the gang's illegal activities.
The Wise Man
The Chaplain looks after the spiritual needs of the club members.
Road Captain
He is charge of the logistics, planning routes and organising refuelling stops.
The assistant Road Captain, the Riders, the Nomads, Prospects and the Hangarounds are some of the other junior levels of a Motorcycle Gang Hierarchy. Also, know about Outlaw motorcycle gang hierarchy.