Have you ever wondered which doctor or physician in a hospital was senior and which one came at a level below? Well, like most organizations, hospitals too follow a certain hierarchy structure according to which physicians are placed in their roles and responsibilities.
This hierarchy is commonly referred to as physician hospital hierarchy. Most hospital follows this structure and this is how designations of physicians are decided. If you are interested in knowing more about the same, you can go through the following given information.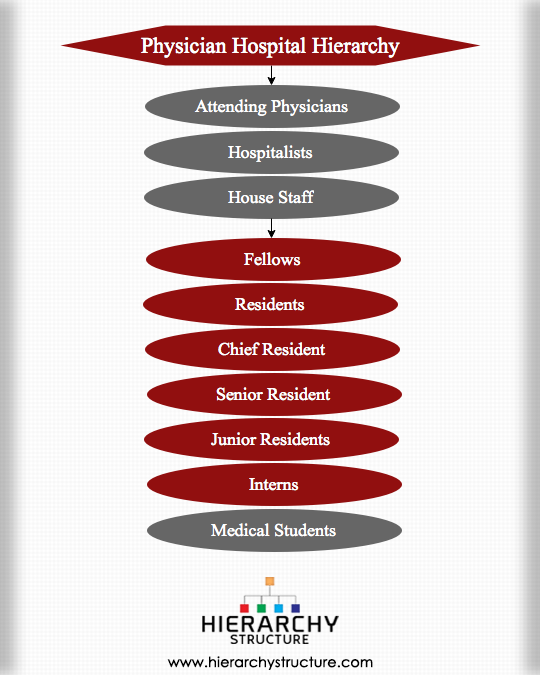 Attending Physicians
Attending physicians are the senior most doctors who are directly responsible for decision making related to hospitals and giving treatment to the patients.  They are fully trained and have completed a least of 3 years of residency training.
Hospitalists
Hospitalists are those physicians who pay attention to the care and treatment of patients who are hospitalized. They take responsibility over from regular in-hospital doctors and function as attending physicians. They basically play the role of a backup to the attending physician.
House Staff
This is basically a generalized term which is used to refer to residents or cover doctors who are in-training.  These may range from new interns just out of med school to others with many years of experience.  In certain hospitals, the house staff will be responsible for giving medical treatment as well.  The following is the sub division of this category of physicians for your better reference and understanding.
Fellows
These are the physicians who come just below the attending physicians and have completed their primary residency. They are usually in the midst of completing advanced training in a certain specialized field. They are in little contact of patients.
Residents
These physicians are on the levels where they have completed graduation from medical school education and passed a national level licensing exam. They are also known as MDs but are not allowed to work without any supervision without completing a least of 3 years of hands-on training.
Chief Resident
This is the senior resident who is responsible for directing the activities of other residents and is the boss of those below them.
Senior Resident
Senior residents come below the chief residents and are third year residents.
Junior Residents
They come below the senior residents and are in their second year of residency.
Interns
Interns are basically those doctors who have already completed their medical school but are still in their first year of residency training. They come below the junior residents and in some hospitals; they are simply called as first year residents instead of interns.
Medical Students
As the name suggests, medical students are still studying to become doctors and do not have any kind of a medical degree yet. They may do rotations in hospital as a part of their curriculum and training. They may or may not have any authority in the hospital and may just observe other doctors give treatment. They make reports, review medical history of patients and get it reviewed by licensed doctors.