The police force of Malaysia is a centralized police force which is one of the largest laws enforcing agency of the security forces structure of the country. The Royal Malaysia police is headquartered at Bukit Aman, Kuala Lumpur and is arranged in an hierarchical manner.
The Police hierarchy of Malaysia is arranged in a well-knit format and covers up all the security operations of the country ranging from patrolling to traffic control and intelligence gathering.
The police force of Malaysia is subdivided into many departments, each one specializing in a particular field of security. Two departments of the police force are involved in the administration of the entire force and for managing the entire police activities at all levels of police hierarchy in Malaysia. These are Management and Logistics departments. Apart from these, there are few more departments directly involved in the security based activities. These are: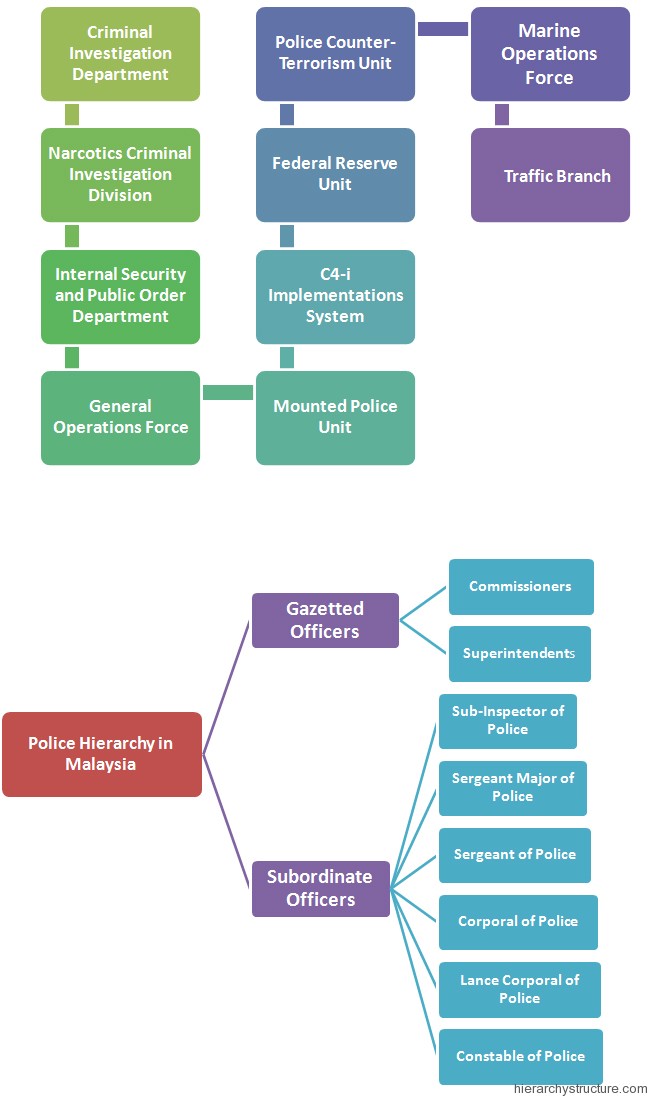 Criminal Investigation Department
Narcotics Criminal Investigation Division
Internal Security and Public Order Department
General Operations Force
Police Counter-Terrorism Unit
Federal Reserve Unit
C4-i Implementations System
Mounted Police Unit
Marine Operations Force
Traffic Branch
All these departments are handled by their respective officers and the hierarchy in all these departments, in terms of police ranks & designations is almost similar, with few variations. The entire police force is served by two types of officers – Gazetted Officers / Senior Officers and File Officers / Subordinate Officers.  Further the gazetted officers are subdivided into two levels – Commissioners and Superintendents. Following is the police hierarchy in Malaysia that is observed in its rank structure:
Gazetted Officers
These are the high ranked officers of police. These officers wear their insignia as a part of their uniform on epaulettes on both of their shoulders. These officers are more involved in planning, heading and leading the critical operations. They are also responsible for extending their assistance in any law & security related issue pertaining to the excise, quarantine, revenue, immigration, registration or any legal system marine matter. Another major activity performed by the police officers at this level of police hierarchy in Malaysia is to execute warrants, summons, subpoenas or any other lawfully issued process.
¨       Inspector-General of Police
¨       Deputy General of Police
¨       Senior Commissioner of Police
¨       Deputy Commissioner of Police
¨       Senior Assistant Commissioner of Police
¨       Assistant Commissioner of Police
¨       Superintendent of Police
¨       Deputy Superintendent of Police
¨       Assistant Superintendent of Police
¨       Inspector of Police
¨       Probationary Inspector of Police
File/Subordinate Officers
The officers at this level are majorly responsible for assisting the senior officers in various activities. Also maintaining basic peace and security in the country falls under the duties of this group of police officers. The police officers under this category except Sub-Inspector of Police are required to wear their insignia on their uniform's right sleeves, while the Sub-inspector wears it on the shoulders like the senior officers. The officers in this category are as follows:
Sub-Inspector of Police
Sergeant Major of Police
Sergeant of Police
Corporal of Police
Lance Corporal of Police
Constable of Police