A job in the publishing world is a kind of a job many dream of-writers or not. Publishing jobs are varied and diverse in their nature and work duties and to bag such a job, a candidate must be aptly qualified and skilled for it. But even in the publishing industry and companies, there is a certain hierarchical structure that is followed.
This is true for all kinds of publishing companies such as newspaper publishing, novel publishing, magazine publishing, educational books publishing etc. Each of these companies is divided into many departments with different set of tasks to be fulfilled.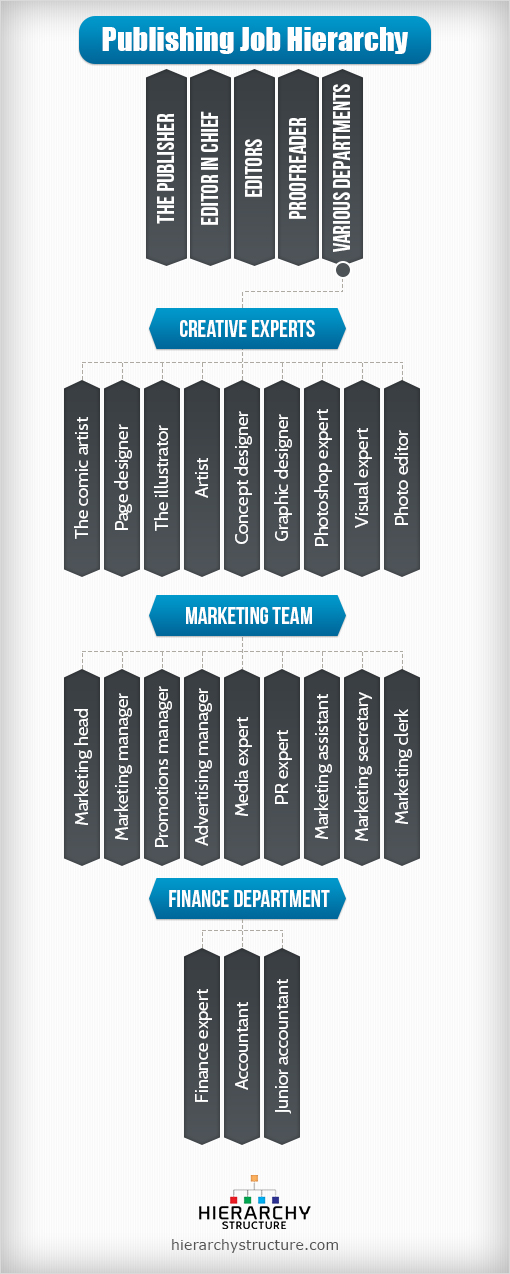 To understand the job hierarchy in a publishing company, you can go through the following given information.
A) The Publisher
The Publisher is often the highest position job in a publishing company and the person who occupies this position is mostly the owner of the company. The main duties, powers and decision making lies with the Publisher who appoints the rest of the staff.
B) Editor in Chief
The Editor in chief enjoys the second most important job in publishing and to become an Editor in chief, one has to work his/her way up the ladder through hardwork and experience.  This job is one of most responsibility as an editor in chief is the head of all other editors.
C) Editors
The job of an editor holds utmost importance for any publishing company and there may be multiple editor job positions available in one company. An editor's job is that of careful examination of content and editing it to create errorless work.
D) Proofreader
A proofreader's job is somewhere down the ladder in the publishing world but it is a good position to start with. A proofreader corrects grammatical mistakes, sentence formation mistakes and other such mistakes so that the content can then be handed over to the editor for further examination.
VARIOUS DEPARTMENTS
There are many other job positions in a publishing company and these may be divided into various sections or departments. Let's take a detailed look.
Creative Experts
There is a section dedicated to the creative team which makes sure that the books or content being published has the right visual appeal. The following are a few of the jobs in this department:
The comic artist
Page designer
The illustrator
Artist
Concept designer
Graphic designer
Photoshop expert
Visual expert
Photo editor
Marketing Team
Marketing jobs in the world of publishing are very creative jobs that require employees to market the books, the company, the content and also the writers. There are many marketing jobs in a publishing company and a few of them have been given as follows:
Marketing head
Marketing manager
Promotions manager
Advertising manager
Media expert
PR expert
Marketing assistant
Marketing secretary
Marketing clerk
Finance Department
To handle the accounts and finances of a publishing company, finance jobs are generated and occupied by finance and accounting experts. The following are some of the job positions that fall under this category.
Finance expert
Accountant
Junior accountant