Racing has always been a hot favorite sport, especially for youngsters due to its fast pace and adventure. Typically racing has been categorized widely into five parts on international levels. Different nations participate in these racing competitions. On world-wide level, the race leagues have got immense success and fame.
The racing is generally of category motor racing. It has been more a century (100 years almost) since the racing has been done and till date is being done with full enthusiasm and passion around the world. Race team hierarchy will showcase all of the five racings which are arranged at international level. The Race team Sports hierarchy is as follows. The arrangement is being done on the basis of popularity at international level. Have a quick look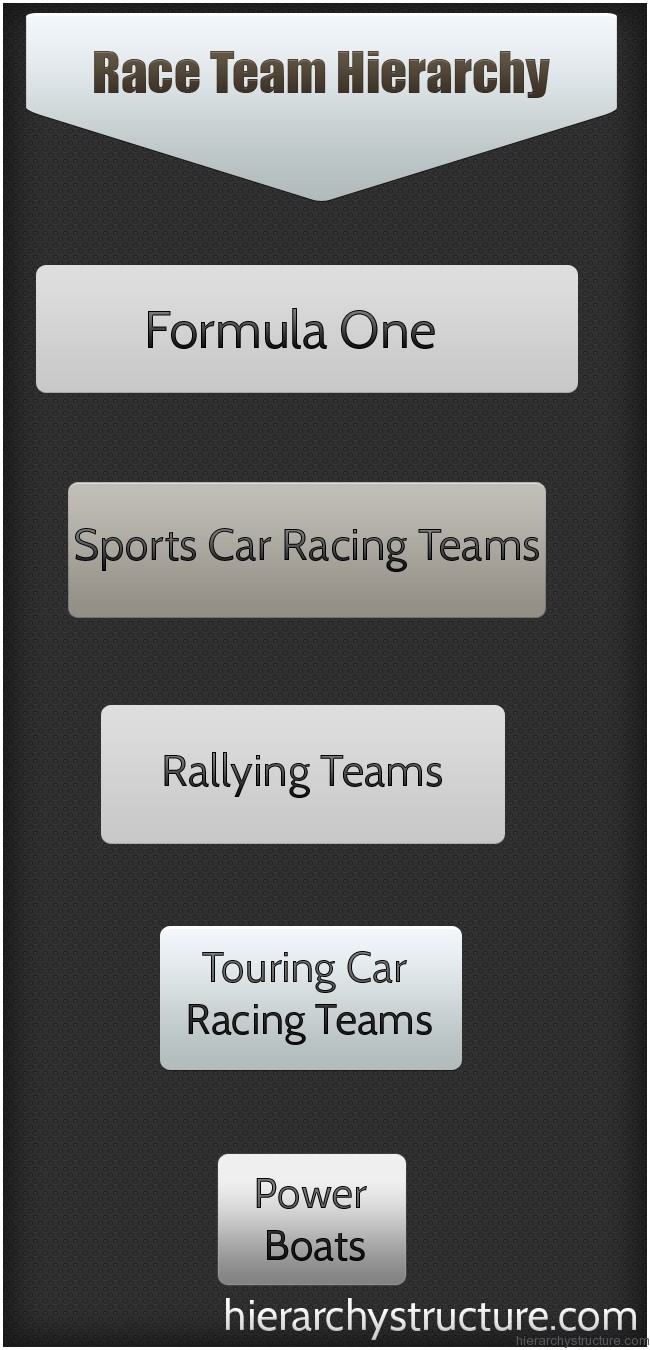 Formula One
Sports Car racing Teams
Rallying Teams
Touring Car racing Teams
Power boats

 
Formula One
The best of all the racing leagues and most admired one is the Formula One racing. It is also termed as Formula1 or simply F1 also. It is widely referred to as FIA Formula One World Championship. The racing team makes use of the world's finest & superior class auto racing single seater cars. The cars need to be sanctioned by Federation International De Automobile first and only then can be used in the league.
Sports Car Racing Teams
 Sports car racing is one of the most admired racing format not only these days ever since its origin. People around the world have got craze for sports car and this league certainly portrays world's best fact paced sports car and all together at one place. Sports cars have only two seats along with enclosed wheels and are quite expensive. The first ever sports car race is believed to took place in the year 1923 which was named as endurance race.
Rallying Teams
This is also broadly termed as the WRC (World Rally Championship) and is very famous around the globe. This racing style started off in the year 1973. Numerous teams participate in this league that lasts for around 13 days. It is controlled by FIA. A representative WRC team will usually comprise of almost 40 people with around 60 to 100 as the base team.
Touring Car Racing Teams
This is the kind of racing done for a variety of diversified auto racing leagues in heavily altered & customized street cars. This type of racing style and teams are most famous in Brazil, Australia, Italy, Germany, Britain, Japan and Scandinavia. It is one of the most well supported entertaining racing styles.
Power Boats
It is a different kind of racing done by motor boats but is equally popular around the world. It is in general referred to as Power Boat World Championship and is widely promoted by the name H2O (H2O refers scientifically to water) racing.  This is an exciting game that showcases an amazing view of teamwork and strength.