Russian Business hierarchy is quite different from other country's business hierarchies from the view point of division of power and authority among employees. Undoubtedly it is also a three level system arranged in a systematic pyramidal manner but there is quite a more strictness too in the Russian Business hierarchy.
The entire Russian management is quite more directive & centralized. The boss acts like a 'big boss'. Very little consultation is taken from lower level officials of the company while the boss enjoys issuing direct orders to other employees whom they have to follow. Not only lower level but even the middle level is not possessed with much power to interfere in the strategy making or decision taking of the higher level officials. Too much of consultation from lower level officials is considered a sign of weakness as well as lack of decisiveness in the business structure of Russia. But middle level official only get the power to interfere when they after years of service get promoted to the decision making higher level.
The end decision is always done by the real decision maker – the superior most boss of the organization. The Russian Business hierarchy is described as below in brief with description to all levels. It is defined in a top down manner in a pyramidal manner. Have a quick look –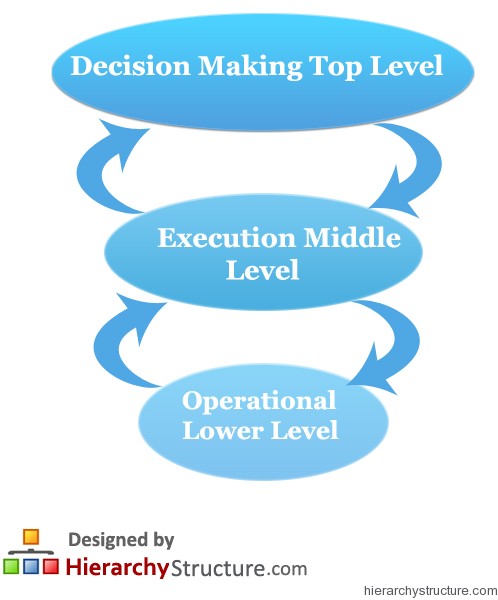 Decision Making Top Level
This is the highest level of the Russian Business hierarchy. As the name implies professionals at this level enjoy complete decision making for the organization. The good or bad whatever decision is taken by them is the final one & the lower or middle level officials have to work according to them. The officials at this level the highest management levels and C-level employees who work on finalizing the vision and objectives of the organization. They provide their orders directly to middle level officials. Entire planning, organizing and finalizing is done by these officials.
Execution Middle Level
The middle level of the Russian Business hierarchy consists of officials who take orders from higher level officials, work on them & then give orders to lower business level officials to get it done practically. Basically they are not allowed to interfere much in the decisions of the high level officials but sometimes these professionals after years of service get promoted to lower stages of high level.
Operational Lower Level
Middle level mangers assign the instruction for the physical implementation of the orders attained by higher level to the subordinates. These subordinates are the professionals who incorporate the operational level. This is the lowest level of the Russian Business hierarchy.  These officials are expected to perform well but a little or no description is provided to them. They work on the daily, weekly or monthly plans provided to them by middle level officials.