Sales department undoubtedly is a vital part of any company. Company's market value depends on its profits and losses and these profits and losses are highly dependent on its Sales department. It's very important for any company that its sales department functions well.
Many companies use a well organized sales company hierarchy that helps in the working of sales department and indirectly responsible for enhancing the market value of the company. The sales company hierarchy divides Sales Departments into several levels, that make work easier and efficient. There are several levels of sales hierarchy.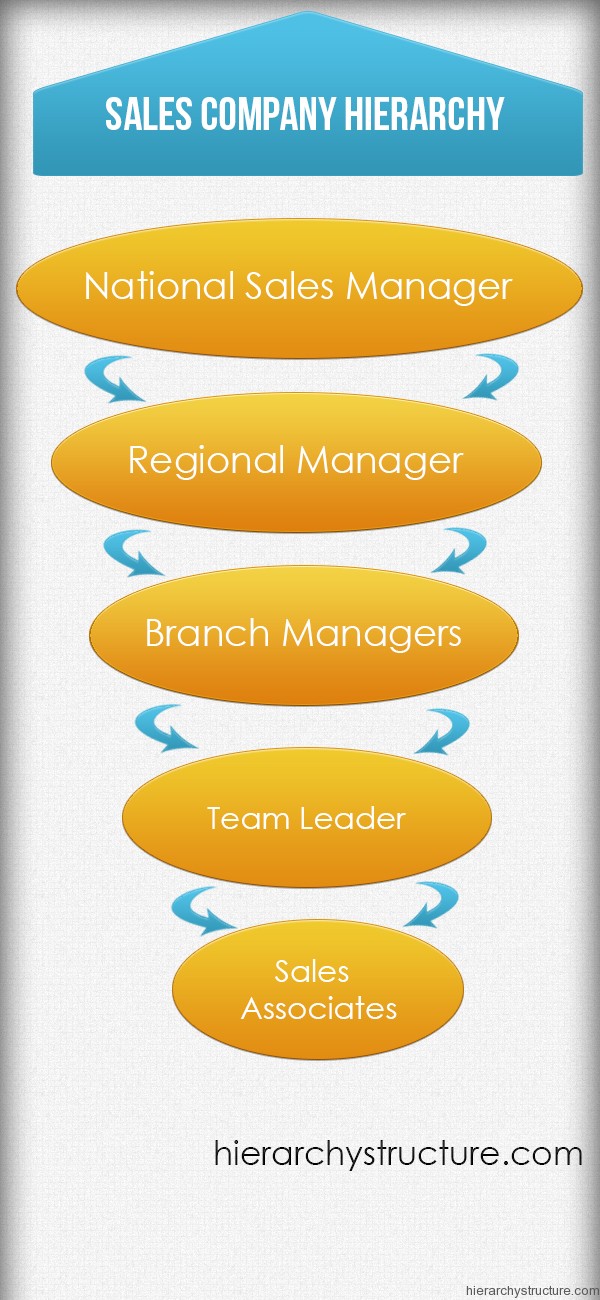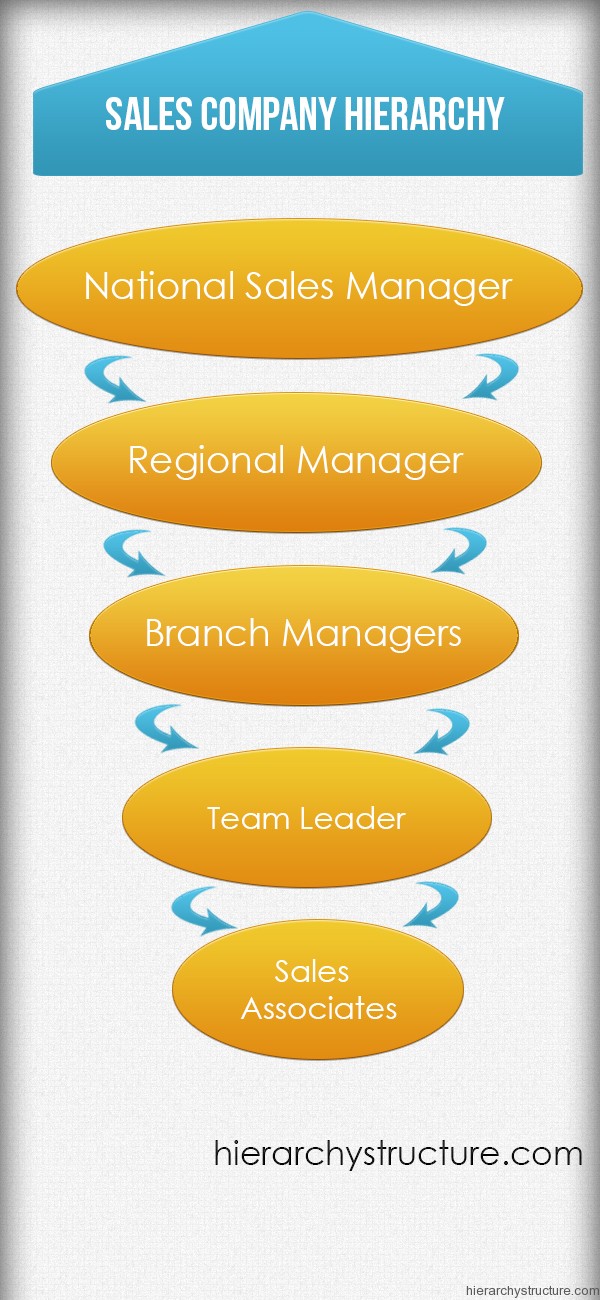 Each level  is explained in detail below:
National Sales Manager
Regional Manager
Branch Managers
Team Leader
Sales Associates
National Sales Manager
 These are the personnel who rule the hierarchy from the top most level of the sales company hierarchy. Chief Sales executive or Sales director can be other designations for this level. Their main function is to work on strategies and target plans for the sales department. They also work on new plans, innovativeness, goals to improve profit or market value of the company. They direct the Regional Manager and assist him in plans to reach his objectives.
Regional Manager
 This is the second level of the hierarchy. They are responsible for sales in the particular area assigned to them. They work on that area with their team. They oversee all the sales outlets and work on maximizing the popularity and sales of the company's products. They report to National Sales Manager.
Branch Managers
  This is the third level of sales company hierarchy. They work over certain group of employees or outlets within their territory. They recruit sales people those who work under them and train them time to time to work on improving their efficiency. They are responsible for implementing certain employee performance boosting techniques like extra bonus, this helps in improving working environment and it generates competition among employees which further helps in improving performance of the company. Their main goal is to achieve target given to them by Regional manager.
Team Leader
  They sit around the end of hierarchy. Their work is to motivate and train the staff that  works under them. These are required to work efficiently, not just their work but their whole team's work. Team leaders are generally the employees who have been promoted to this level from the sales associates.
Sales Associates
They sit at the end of Corporate Sales Hierarchy. You can imagine them as the soldiers that fight on the border line. They work under some branch's team. They are the last ones but their work decides the work of the team, their  branch, their region. Thus indirectly they are as important as others. These are the one who directly interact with clients and customers on the behalf of the company.  Most of the times, these are offered incentives to boost their performance  and for creating healthy competition based work environment.