Victoria police force is the name given to the law enforcement agency that primarily works in Victoria, Australia. Victoria police force is well organized in a hierarchical manner where each police officer is assigned a particular represented by its epaulettes. Victoria police force is a quite large force with more than 12, 000 sworn members.
This police force finds its roots in early 1853 when this force was formally established. Victoria police hierarchy runs in a Para-military structure where any newly recruited sworn member starts his police career from lowermost ranks and gradually with time and experience rises on the upper levels of Victoria Police Hierarchy.
A new sworn member starts serving the police from the rank of constable and is promoted as senior constable after four years of service. The promotions after this level are quite competitive and officers need to pass certain tests in order to find their way up in the rank hierarchy. The structural hierarchy of Victoria Police force is divided into following levels: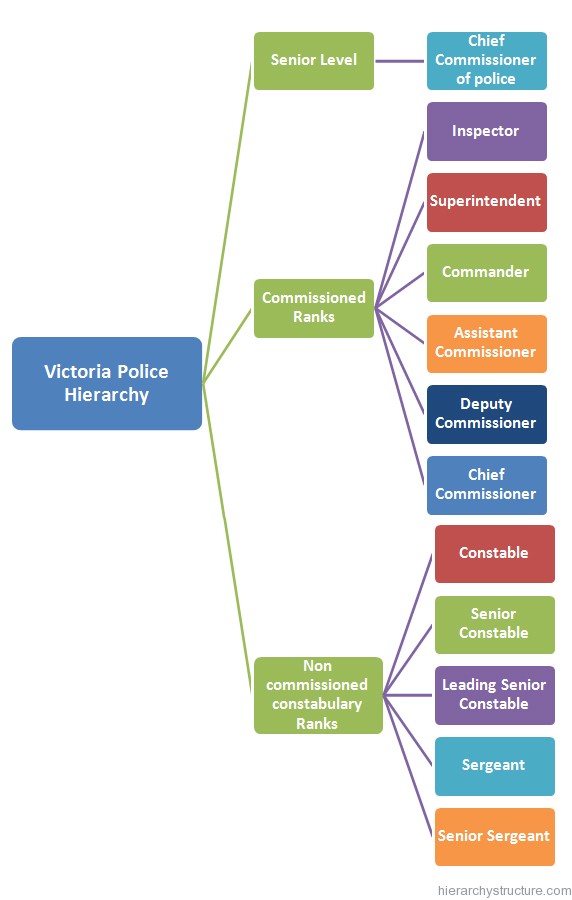 Senior Level
Commissioned Ranks
Non commissioned constabulary Ranks
Senior level
On the top of the Victoria police hierarchy is the highest level in the hierarchy acquired by the Chief Commissioner of police. The Chief Commissioner is responsible for over looking the entire operations of the police force and for commanding major operations of police. Being the senior most official in police, a Chief Commissioner is also responsible for managing the structure of police and for supervising the operations carried out at various levels of police.
He is also responsible for giving time to time advice to the government on the issues related with police and criminal incidents. The official at this level acts as official advisory to the government for the legal issues.
Commissioned ranks
The commissioned ranks are the higher level ranks in Victoria police hierarchy. The officers at this level are required to perform administrative tasks and management of the incidents in their designated areas. The members at this level are skilful and have completed certain level of police training apart from showcasing their work based performances. To work at this level of police service candidates are required to appear for certain tests.
Hence these officers work at higher levels and are offered more privileges in return of their service as compared to the lower ranks. The hierarchy continues in the lower ranks mentioned in the above written segment and goes the way up. Following are the ranks of officers who serve at this level of Victoria police hierarchy:
Inspector
Superintendent
Commander
Assistant Commissioner
Deputy Commissioner
Chief Commissioner
Constable / Non-commissioned Level
The officers at this level are those who are in early years of their service. This level comprises of the constabulary ranks and entry level ranks. The officers at this level perform the basic responsibilities of police like maintaining law & order, surveillance and patrolling. The rank structure at this level from bottommost to higher ranks is as follows:
Constable
Senior Constable
Leading Senior Constable
Sergeant
Senior Sergeant
Know more about New York Police Hierarchy Click Here