Amazon, started by Mr. Jeff Bezos in 1995, is one of the most customer-centric companies in the World. Amazon is a Fortune 500 company with head office in Seattle, Washington. The company has an extensive network of customer service centers and has a diverse range of product offerings.
This is also one of the most popular names on internet. The company operates sites in France, Germany, Japan, Italy, Spain, China, United Kingdom and Canada. In addition, the company has a large number of fulfillment centers all around the world which make it stand out as a company giving preference to its customers.
This is also one of the major success factors of the company. In this particular article, we will discuss about the Amazon corporate hierarchy and the significance of the hierarchy in the successfulness of the organization.
At present, the company has about 51,300 employees around the world. The employees are working in the corporate offices, customer service centers, software development centers and the fulfillment centers. The company has a total of seven segments, which includes: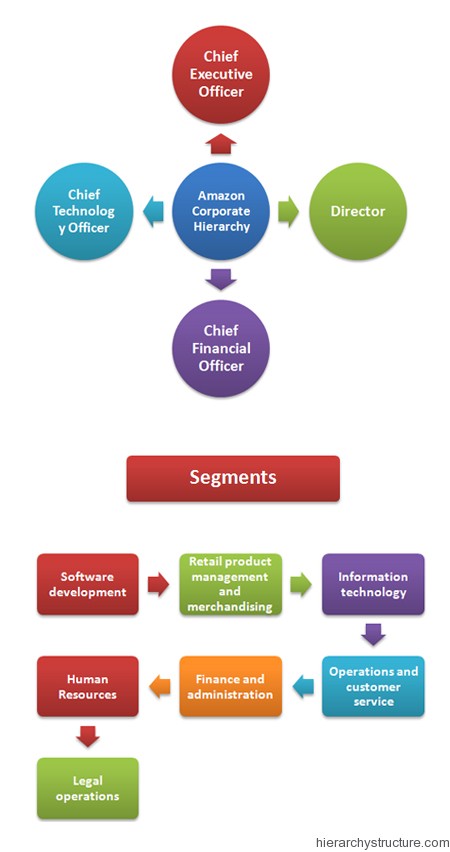 Software development
Retail product management and merchandising
Information technology
Operations and customer service
Finance and administration
Human Resources
Legal operations
Below is the basic structure of the Amazon corporate hierarchy:
Chief Executive Officer: The main mission of the CEO is to meet the financial results expected by the stockholders. The CEO undertakes both strategic roles and operational roles.
The strategic responsibilities of the CEO are:
Identification of the right market for the company.
Ensuring the effective utilization of the resources within the company.
Optimization of various processes within the organization.
Heading the executive committee and arranging meetings at regular intervals of time to discuss the various business issues.
The operational responsibilities of the CEO are:
Take all the necessary actions to meet the specific requirements of the shareholders, employees, customers and the communities.
Keeping track of the financial market.
Developing and implementing strategies based on the reports of the financial analysis.
Director: The director is generally elected by the shareholders. In some case, they are also elected by the employees. The roles and responsibilities of the director are:
Participating in the meeting of the Board of Directors of the company.
Managing the roles related to the development of financial statements and also the related to the governance issues.
Facilitating new deals and alliances with the customers and the business partners.
Chief Financial Officer: The CFO is one of the important components of the Amazon corporate hierarchy. The main objective of the CFO is to provide adequate financial resources for the proper development of the company. S/he manages the various departments of the organization such as accounting, tax, investor relations, control and financial planning.
Chief Technology Officer: The CTO reports directly to the CEO, regarding the status of the technical operations within the company. The CTO mainly focuses on the technology issues of the organization.
Know more about Corporate Rank Hierarchy