Cisco or Cisco Systems Inc. is a tech giant based in United States, with its headquarters in the San Jose region of California. The company is a multinational entity that manufactures its designs of networking equipment and sells them across the globe. Some of its products include- network device, network management, Cisco IOS, and Datacenter etc. The Cisco management hierarchy of the company consists of carefully carved job positions to lead the company. The positions in the management/ lead team in the descending order of hierarchy are given below: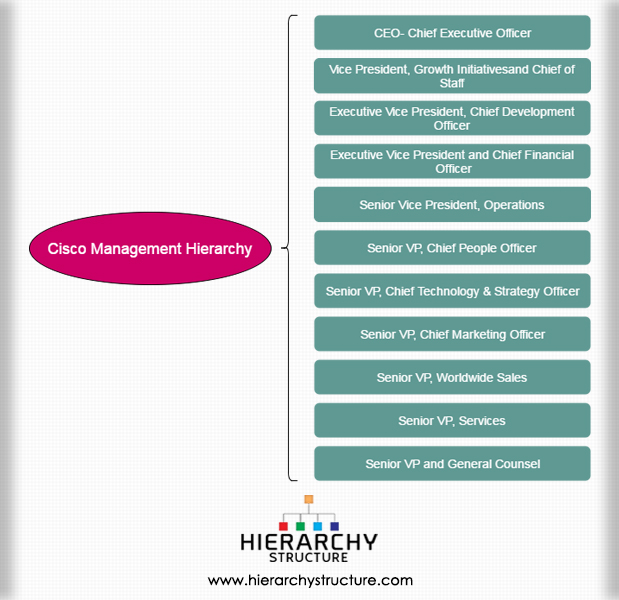 CEO- Chief Executive Officer- The topmost position in management hierarchy is the CEO of the company who is ultimately responsible for the overall decision making and progress path of the company. He/ she are the leader of the product management team.
Vice President, Growth Initiatives and Chief of Staff
Executive Vice President, Chief Development Officer – The individual at this position is responsible for the heading the group of development engineers at the company and managing the tech portfolio. The purpose of the position is to promote innovation and efficiency in the department which handles the core growth options for the business.
Executive Vice President and Chief Financial Officer- The individual is responsible for managing the financial model of the company and bringing out any changes needed for improved efficiency. The goal set in front of this individual is to help meet the company's financial commitments to the board and the shareholders.
Senior Vice President, Operations- The individual is responsible for the operational excellence of the company, the problem solving segment and oversee the global business services, global security and trust, global supply chain and IT segment of the company.
Senior VP, Chief People Officer- This individual leads the HR management team of the organization and is assisted by the HR leader, senior HR managers and whole HR team. The individual is responsible for strategic planning for the workforce.
Senior VP, Chief Technology & Strategy Officer
Senior VP, Chief Marketing Officer- The individual is responsible for the management and development of the company's go-to-market organization.
Senior VP, Worldwide Sales
Senior VP, Services- the individual is responsible for the sales and other general management avenues at the company.
Senior VP and General Counsel
The list above depicts the hierarchy structure between the topmost management segments of the company. There are similar positions in the mid management and the entry level positions at the company.