There are many categories in the field of engineering. One such category is civil engineering. Civil engineers are professionals who plan many types of structures like buildings, roads, highways, bridges, tunnels, railway lines, airports, dams, subways, harbors and water and waste treatment system and plants. Civil engineers also carry on environmental studies in order to prevent soil and water contamination during construction.
These professionals' duties include ensuring safety regulations for the project being built. Civil engineers find work in engineering companies, architectural firms, construction businesses and within all levels of government. Normally the civil engineers specialize in only one area such as environmental, structural, hydraulics, construction, sanitary, transportation or even soil mechanics engineering. The major levels in the hierarchy of civil engineering construction jobs are described as designations from the beginning of the career to the highest career level attained in brief as below in this article: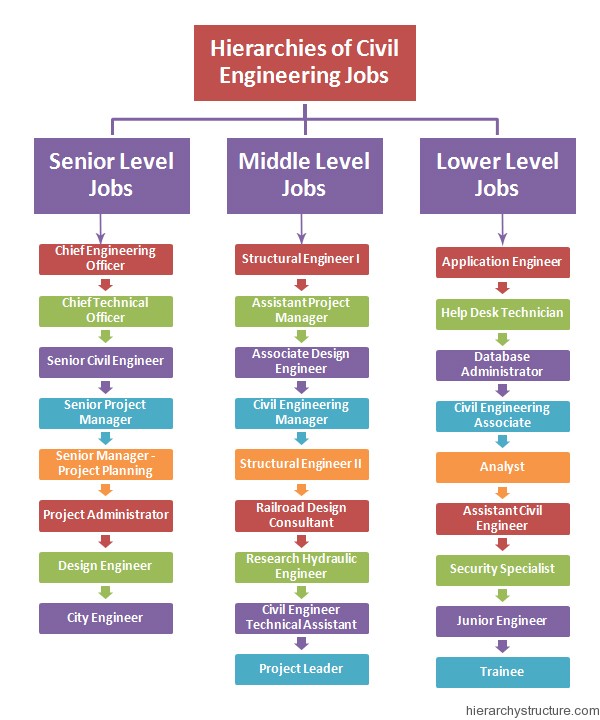 Senior Level Jobs
The exquisite professionals at the senior level are more involved into verdict making processes for the organization (private as well government). They have to handle all the administrative related tasks and lead the entire team effectually. These high-level professionals team up with specialized senior architects for designing the entire project. They have to focus immensely on a great deal of safety while determining the best elements and methods for meticulous type of projects. Following are few profiles that acquire highest level in the hierarchy.
Chief Engineering Officer
Chief Technical Officer
Senior Civil Engineer
Senior Project Manager
Senior Manager – Project Planning
Project Administrator
Design Engineer
City Engineer
Middle Level Jobs
This level features the job profiles at middle managerial levels. The professionals at the middle level jobs of the hierarchy of civil engineering jobs are required to work exquisitely under the supervising of senior engineer following their guidelines and order to fulfill the task assigned. Majorly they handle particular sections of major civil projects and are required to smoothline the activities of the assigned project. Normally the companies ask for at least a bachelor's degree in the civil engineering for these job titles.
Structural Engineer I
Assistant Project Manager
Associate Design Engineer
Civil Engineering Manager
Structural Engineer II
Railroad Design Consultant
Research Hydraulic Engineer
Civil Engineer Technical Assistant
Project Leader
Lower Level Jobs
These are the lower level job titles with professionals having little experience in the field. Some of the professional in this level of the hierarchy do not even possess little experience. These are fresher who have just completed their associate's degree of engineering. These work as trainee in the companies to gain vital experience in the industry. These hard working professionals report directly to the middle level engineers.
Application Engineer
Help Desk Technician
Database Administrator
Civil Engineering Associate
Analyst
Assistant Civil Engineer
Security Specialist
Junior Engineer
Trainee