Construction industry incorporates an exquisite phenomenon that involves assembling and manufacturing of the building and infrastructure. This industry truly defines the meaning of human multitasking. Every construction project requires a unique team to plan, design, construct and maintain the project.
The construction jobs hierarchy incorporates various professional job positions like project manager, design engineer, construction manager, architects, construction engineer and many more. The construction job hierarchy is defined as below in brief with a little description.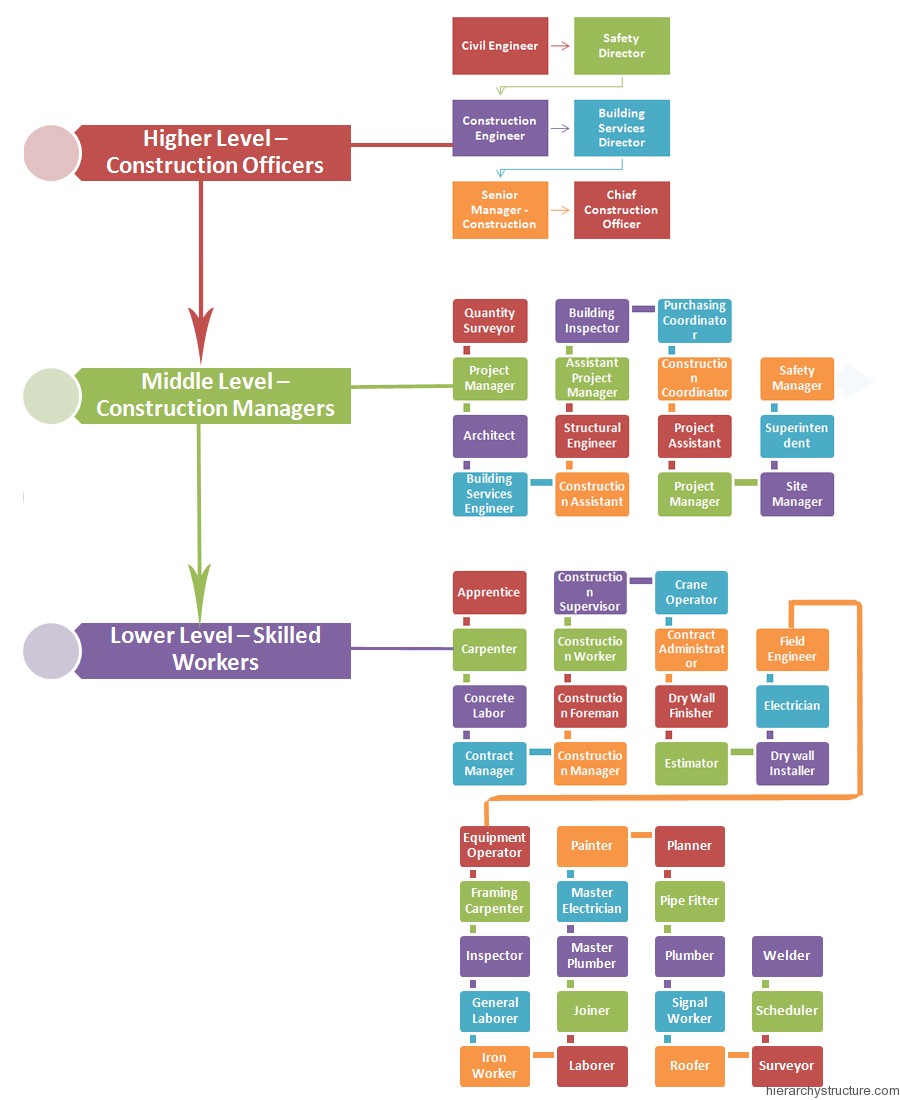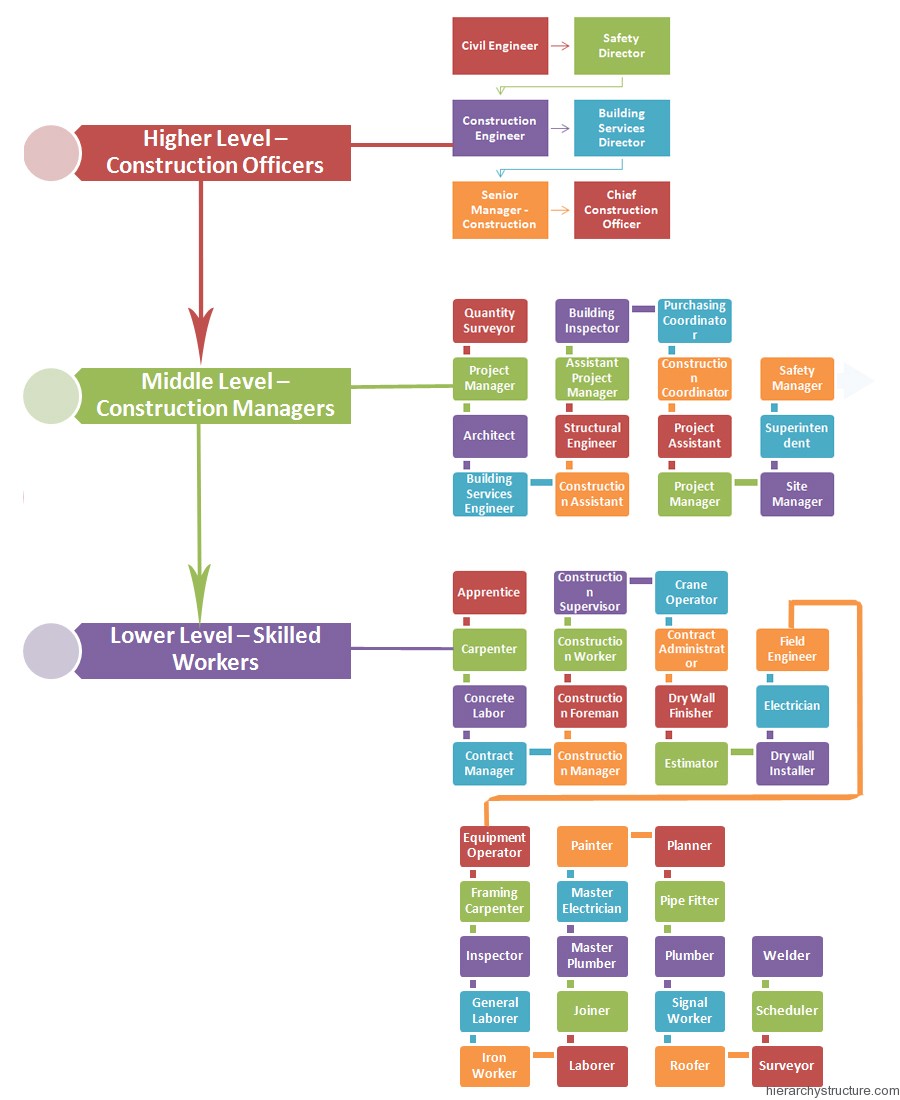 Higher Level – Construction Officers
These exquisite professionals specifically possess a background in construction supervision or construction project. These professional also play a vital role in the Construction Company. These professionals typically hold a bachelor or even a master's degree in structural engineering along with some vital and handy experience in the same field.
Civil Engineer
Safety Director
Construction Engineer
Building Services Director
Senior Manager – Construction
Chief Construction Officer
Middle Level – Construction Managers
Civil engineers are professionals who plan many types of structures, including buildings and highways. They work as a team with architects on design and focus a great deal on safety, determining the best materials and methods for particular kinds of construction. They also work in close association with architects while developing the design plans of the construction to be pursued. There are a plethora of job profiles that are available at this level of construction jobs hierarchy who perform various tasks on the construction field. These are the professionals who manage the skilled workers and assign them activities in order to carry forward the construction project.
Quantity Surveyor
Project Manager
Architect
Building Services Engineer
Construction Assistant
Structural Engineer
Assistant Project Manager
Building Inspector
Purchasing Coordinator
Construction Coordinator
Project Assistant
Project Manager
Site Manager
Superintendent
Safety Manager
Lower Level – Skilled Workers
Construction is a vast field that needs professionals with different specializations. There are several lower level employees who are required to carry out the construction based diverse activities in numerous ways. These are the skilled workers who are not required to possess mandatory academics but need specific experience in particular construction-oriented fields. The job profiles at this level range from a general mason to a skilled apprentice. The workers at this level are often hired on daily payment basis.
Apprentice
Carpenter
Concrete Labor
Contract Manager
Construction Manager
Construction Foreman
Construction Worker
Construction Supervisor
Crane Operator
Contract Administrator
Dry Wall Finisher
Estimator
Dry wall Installer
Electrician
Field Engineer
Equipment Operator
Framing Carpenter
Inspector
General Laborer
Iron Worker
Laborer
Joiner
Master Plumber
Master Electrician
Painter
Planner
Pipe Fitter
Plumber
Signal Worker
Roofer
Surveyor
Scheduler
Welder
Read More: