Marketing can be regarded as the backbone of any business because the aim of marketing is to create profitable exchanges which satisfy both the customer needs and organizational goals. Hence every company needs a strong marketing corporate hierarchy in order to achieve the profitability in the business.
Various marketing functions that need to be performed by the marketing team of the organization include market research, brand management, product promotion, sales & distribution, marketing communication etc.
Every organization needs a dedicated marketing corporate hierarchy to undertake its marketing activities at all echelons of the organization. Well-conceived and well executed marketing plans generate long term returns for the organization which can be quantified.
Hence the ultimate goal of marketing is to facilitate mutually satisfying exchange relationship between the company and its customers. Effective marketing can only be undertaken by an efficient marketing team organized in hierarchical manner in the organization. Following is the basic marketing business corporate hierarchy: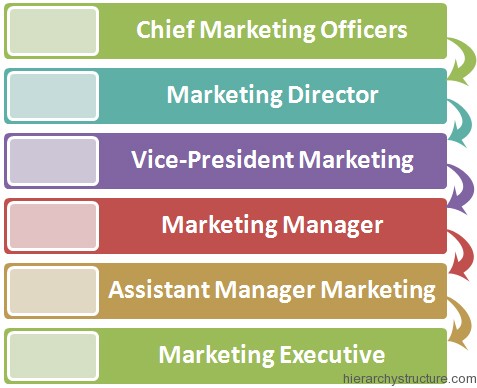 Chief Marketing Officer
Marketing Director
Vice-President Marketing
Marketing Manager
Assistant Manager Marketing
Marketing Executive
Chief Marketing Officers
A  Chief Marketing Officer is responsible for designing and developing the marketing business strategy and operating plans. These professionals are responsible for covering up the major strategic planning exercise at predetermined time intervals depending on the dynamics of the organization.
Marketing Director
A marketing director participates in the various marketing strategies related decision making process along with the other officers of the enterprise level and conducts a wide range of marketing projects. Marketing director also assist CMO in strategizing marketing campaigns for the organization and for setting performance standards for all the marketing division employees.
Vice-President Marketing
The vice president of marketing is responsible for segregating various policies and strategic planning pertaining to marketing for various departments and project heads. He then hands over the segregated tasks and oversees & manages the tasks from the higher level. He is responsible for reporting to the vice-president of the company. The professionals at this level need to be highly skilful to manage various tasks within the strict schedules.
Marketing Manager
The marketing manager performs various administrative duties within his division. The key responsibilities include developing various policies and procedures associated with the marketing activities, conducting business planning specific to that area and reporting to the vice-president.
Assistant Manager Marketing
The assistant manager in marketing is responsible for assisting the marketing manager in various activities. But the major responsibility of the assistant marketing manager is to handle the marketing executives of his division in their tasks. He is responsible for complete charge of the marketing executives, for delegating tasks to them, for checking their regular achievement of targets and daily, weekly & fortnightly progress reports.
Marketing Executive
The marketing executives are responsible to market the products and services of a business, expectant and ardent marketing associates are hired by the business owners. Marketing executives work as a team having different roles and job duties depending on the designation provided.