Marketing jobs have always been a hot cake in the industry since marketing associates play a vital role in every business.
The profit and loss of a business directly depends on ardent sales of a business and the efficient sales performance depends directly on the level of marketing done, better and covetously the marketing performed, more is the sales and thus profit and success rates get increased. From small scale industries to multinational companies all appoint marketing professionals.
The marketing job titles are almost same in all the Marketing businesses and these are described in an exquisite manner below in this article starting from the highest job level and ending with the lowest one in the industry. Let us take a look at this hierarchy.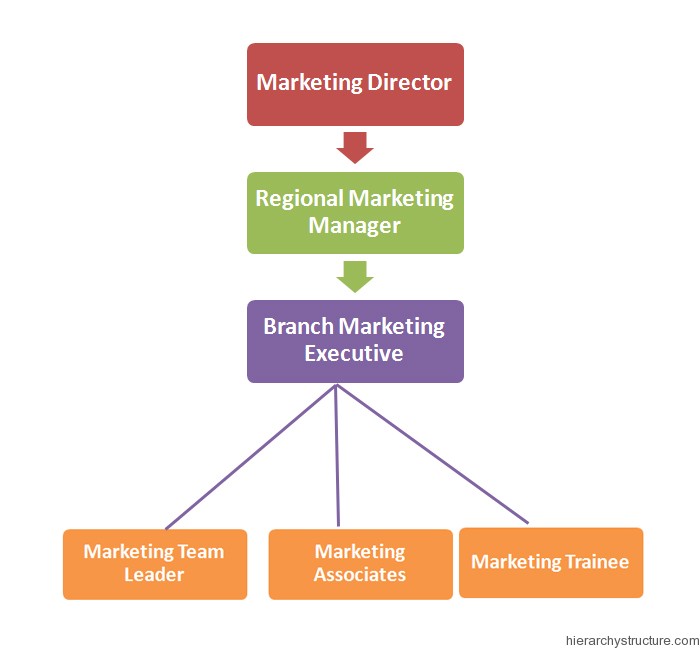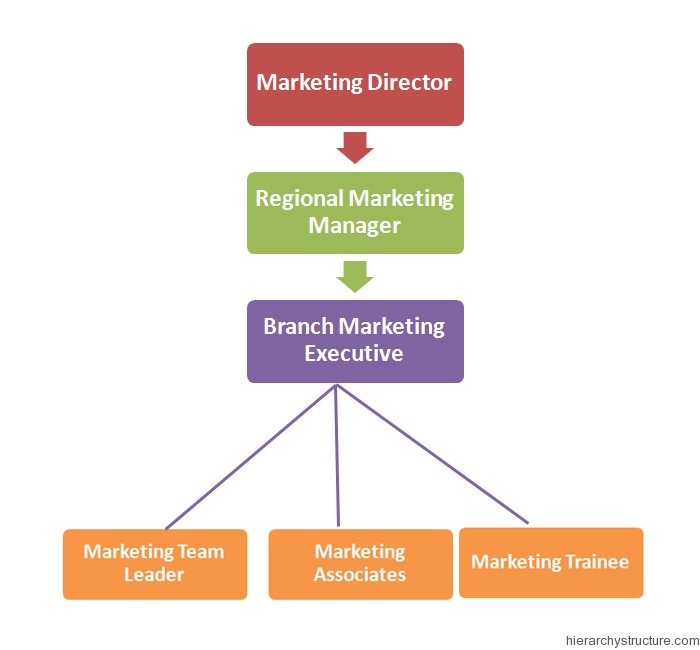 Marketing Director / National Marketing Manager
The highest job title in the marketing jobs is marketing director also referred as national marketing manager or chief marketing officer (CMO) in some companies. An amorously talented professional with vital experience of several years is appointed for this job position by the companies. All marketing related strategies and planning are done, finalized and executed by the marketing director.  Marketing director reports directly to chief executive officer, CEO of the company.
Regional Marketing Manager
Next in the hierarchy is job title regional marketing manager sub ordinate to marketing director job title. Regional marketing manager handles the marketing tasks for the company for a specified region provided by the company to the regional marketing manager. Companies mostly hire professionals with a master's degree in marketing having a vital experience in the field.
Branch Marketing Executive
The professional who handles the marketing tasks for the company's entire branch are referred to as branch marketing executives. Normally marketing team leaders get promoted to this job title. They are directed to report directly to regional marketing manager. They are responsible for all marketing related issues for their branch.
Marketing Team Leader
Next in the hierarchy is marketing team leader job title. Marketing team leaders are provided with a team of marketing associates and certain targets for a pre-specified duration of time by the company. They supervise their entire team of marketing associates in their outlet and manage the team to fulfill the targets on time for the company in an exquisite manner.
Marketing Associates
The second lowest job title in the marketing job hierarchy is marketing associates. Normally the marketing trainees are appointed to this job title after they are finished with their amorous training. These professionals are directed to report to their team leader.
Marketing Trainee / Marketing Assistants
The students after finishing their studies and willing to enter the marketing field are appointed for this job title as a trainee. The training period is for pre- specified duration of time. They normally assist marketing associates while working and report to marketing team leader.