Testing or software testing is a term which is used to refer the testing or analyzing process of software programs before or after running them. Every software company or IT firm has a separate section or department which is dedicated to this practice and is composed of testing specialists.
Testing helps to find out about the quality and performance of software products before they are sold or used. This practice helps reduce risks and improve the quality further. There are many positions within this section or department of an IT company and these positions are arranged in a hierarchical order. To understand this hierarchical order, you can read the following given information.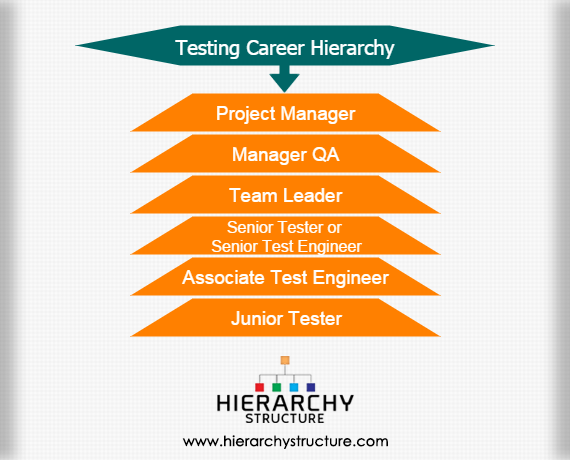 Project Manager
The topmost position in the testing career is that of the project manager. This is the highest position to which any testing specialist can reach in a company. A project manager is mainly responsible for implementation, planning and delivery of testing results. The manager performs many functions and duties including supervision, resource management, automation framework development and automation architecture designing.  It is the project manager who gives instructions to other team members and coordinates their activities.
Manager QA
Manager QA is the testing specialist who comes at the second position after the project manager and is the individual who not just analyze the project but also the testing procedures. He/she also gives advice and instructions to the project leads and makes sure that the company adheres to the protocols and procedures.
Team Leader
After the position of the manager QA comes the team leaders. These are the individuals who carry out particular testing tasks and lead the team of softwares and testing specialists. They report to project managers and provide both onshore and offshore coordination. They handle tasks like reporting results and designating duties.
Senior Tester or Senior Test Engineer
At the 4th level of the hierarchy in a testing career is the position of the senior tester or senior test engineer.  He/she is the specialist or expert who handles all technical tasks and makes sure they are being carried out within the given budget and the time.   He leads the team of engineers and also supervises the assistant engineers or new engineering graduates.
Associate Test Engineer
At the next position in the hierarchical structure comes the associate test engineer.  The is an assistant level position in test engineering and the person employed at it is mainly responsible for manual testing of windows and web based applications. The individual must also analyse the functional specifications.  The associate test engineer is also responsible for heading the junior testers and even training them during the initial stages.
Junior Tester
At the bottom of the pyramid in the testing career hierarchy is the junior tester. This is the entry level position and those who are employed at it may be the least experienced and skilled. They gain experience of testing at this position and may need a few years of experience to climb up the ladder.