Accenture is a management, consulting, IT and outsourcing company which helps clients in becoming high performance businesses and governments. The headquarters of Accenture are located in Dublin, Ireland since 2009 and getting a job in the company is considered a matter of pride for most candidates.
Within this company, there is a hierarchical system among job positions which is followed to create a ladder of promotions which a person can climb with hardwork, experience and knowledge-building. Starting from the position of an analyst to the position of a Partner, there are several job positions which lie in between and within each department. To know more about the Accenture career hierarchy, you can read the following given information.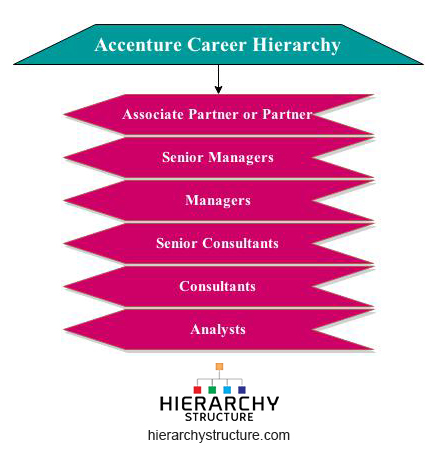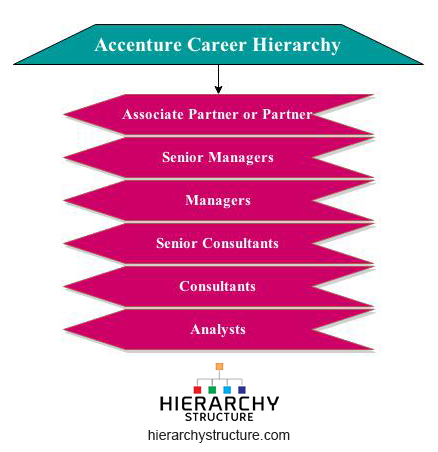 Associate Partner or Partner
The top level position in Accenture Corporate Hierarchy is that of the partner or the associate partner. This position is not easy to climb upon as it needs years of experience in the company or in the similar field of consulting and outsourcing. The main job of the partner or associate partner is to bag clients and deliver solutions.
Senior Managers
The position which comes next on the ladder of the Accenture career hierarchy is that of the senior manager. A person must work mainly in sales for about 7 years to get to this position. Senior managers are responsible for client interaction and leading project teams.
Managers
After senior managers, the next position on the pyramid is that of the manager.  A manager mustpossess 5-7 years of experience and is responsible for the management of sales and other projects. He/she leads small project teams and sees to it that results are delivered on time and within the specific budget constraints.
Senior Consultants
At Accenture, the position which comes below the position of a manager is that of a senior consultant who are very valuable to the project workings and client communication.
Consultants
Every consultant needs atleast 3 years of experience as an analyst to come to this position. A consultant works under the senior consultant or manager and looks after smooth functioning of day to day activities.
Analysts
The entry level position in Accenture is referred to as analyst position. This is the position which is mostly given to undergraduates or fresh graduates with no experience. Analysts take orders from managers or consultants and complete day to day analysis tasks. They must work on research, presentations and training for atleast 2-3 years to be promoted to the next level.
More Resources: