Ernst & Young is a renowned multinational company which offers a well-designed career hierarchy for its employees to learn and grow. They have diverse positions in various designations to accommodate professionals and employees as per their calibre. Given below is the important positions in Ernst & Young career hierarchy: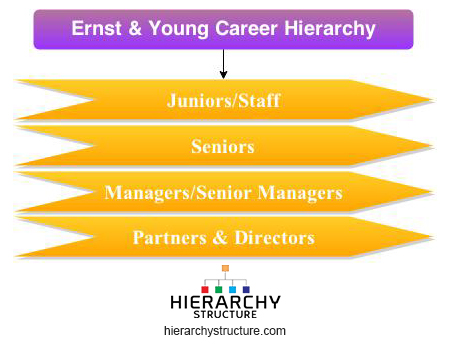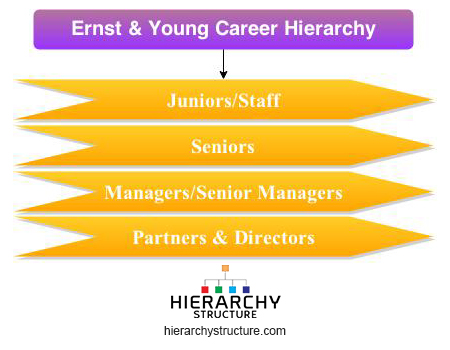 Juniors/Staff
Employees who are joining as fresh graduates or those who are with less than three years of work experience are given the designation of juniors. Based on the business service area you are joining in you can learn about general corporate tax rules and regulations, or you can achieve expertise in a specific area of Ernst & Young's business. In whichever speciality section you join in, you will develop a thorough understanding of diverse business lines, perceptions of challenges in business and the different ways to tackle those challenges.
Seniors
People who are joining the firm with sufficient work experience in relevant areas will be given the designation of seniors. At the senior's level, the employee will develop more managerial skills in account managing as well as achieve a deeper knowledge in the area of tax and accounting. At this grade you are expected to take responsibility of team leaders and guide your team members by setting a role model as well as sharing your visions and information in the specific business line.
Managers/Senior Managers
The position of a manager or senior manager is of heavy responsibility to be in charge of multifaceted roles: acquisitive about the broad picture of business and to ensure the smooth functioning of business by engaging your team members as a capable leader.
Robust communication and interpersonal skills are essential at this level as managers are supposed to interact with various clients on a daily basis. This interaction with clients at several levels requires you to be able to identify the problems faced by clients and also to provide solutions for them. These senior posts require you to support the business with your communication and relationship skills with the clients.
Partners and Directors
Partners and Directors are the top most executive positions in Ernst & Young, which requires the people at this level to be entirely responsible for constructing and maintaining trusting relationships with business clients. They are also responsible for ensuring the company to be up to date about current market and business skills and to develop innovative value added services to the clients. These executives will lead various teams in the right direction for fruitful solutions and also share their insights via trainings and coaching to the team members, and thus ensure the total success of the business.
More Resources: