HR stands for Human Resources and is one of the most important and vital administrative rank in the industry. These are the dedicated professionals who are responsible to take care of the human resources department for any corporation. The head of the HR department always reports directly to the chief executive officer.
This is basically a people interactive job, whether interacting with the clients or performing interviews to hire officials for the company. A person having a degree in the same field along with friendly and lively nature and equipped with excellent communication (written as well as verbal) skills are hired for this job title by the companies. There are many job titles in the hierarchy of HR jobs. These all are explained below.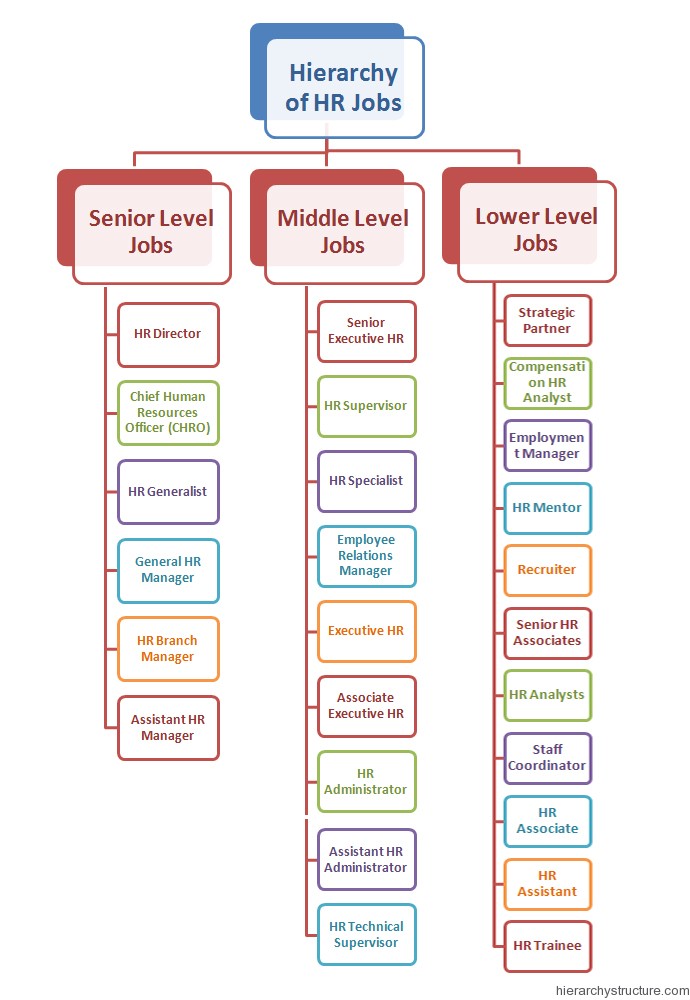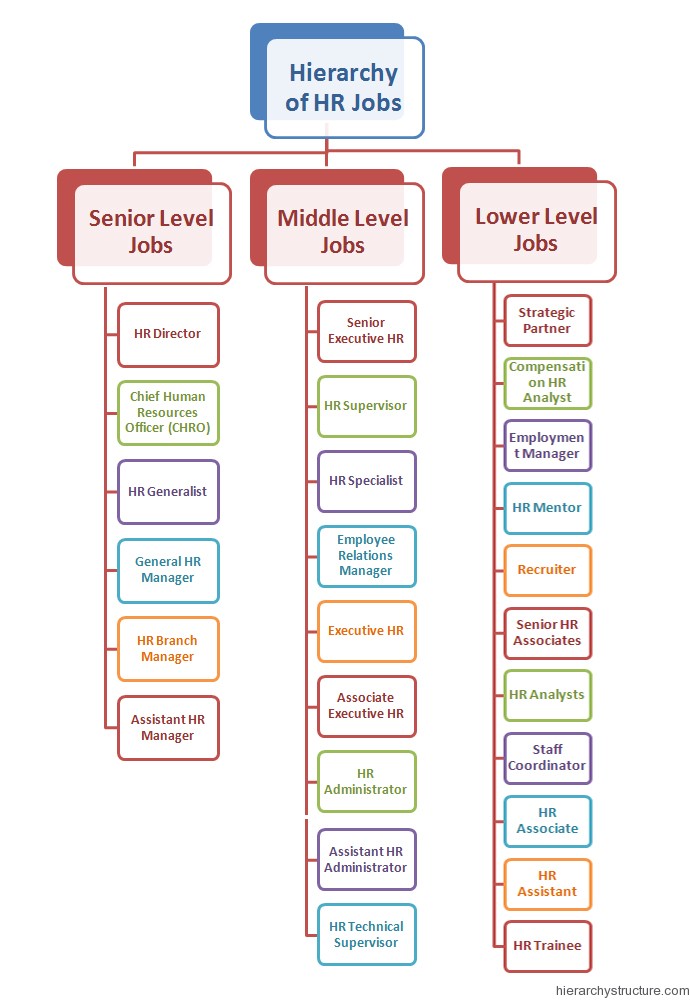 Senior Level Jobs
The professional at this level are more involved into decision-making processes. A person requires lot of experience along with hard work, dedication and passion to reach at this high-level job title. These officials handle all the HR related work and the team ardently, and report only to the CEO of the company. Following are few profiles that acquire highest level in the hierarchy.
HR Director
Chief Human Resources Officer (CHRO)
HR Generalist
General HR Manager
HR Branch Manager
Assistant HR Manager
Middle Level Jobs
This level features the job profiles at middle administrative levels. The professionals at this level of HR jobs hierarchy are accountable covetously for supporting entire firm within each & every area of the human resources operations of the company. These middle level professionals take the task of managing the entire lower level HR staff, taking care of employee training, managing the payrolls as well as distribution of handbooks of employees with immense care. Following are few profiles that acquire middle level in the hierarchy.
Senior Executive HR
HR Supervisor
HR Specialist
Employee Relations Manager
Executive HR
Associate Executive HR
HR Administrator
Assistant HR Administrator
HR Technical Supervisor
Lower Level Jobs
The professionals at this level of hierarchy incorporate both fresher as well as experienced one. These professionals have got specialization in certain fields of human resources technology. These specific field expertise oriented professionals work according to the orders and guidelines of their seniors. Well there are many different profiles which are served by professionals at this lower level of the HR hierarchy job. From this level onwards, the professionals start taking superior leaps within the field of their specialization in their career.
Strategic Partner
Compensation HR Analyst
Employment Manager
HR Mentor
Recruiter
Senior HR Associates
HR Analysts
Staff Coordinator
HR Associate
HR Assistant
HR Trainee
More Resources :